Jun 05 2009
Update: Make sure to check out Ed Morrissey's take on the news today and that great graph at Hot Air showing the stimulus plan failed to live up to its promises. Here's the graph!
 
Major Update: Here is a little reported report on the economy from the CBO from March of this year which details the massive red ink and gloomy economic projections since only January. Some key findings:
of the 2009 deficit by $481 billion, to $1.7 trillion (see Table 1-3). Much of that change stems from lower esti mated revenues and the increased costs attributable to the TARP. Over the 2010–2019 period, CBO has increased its estimate of the cumulative deficit by $1.3 trillion—mostly because of recently enacted legislation. Nearly half of that projected increase occurs in 2010 and 2011, largely as a result of the 2009 stimulus legislation (ARRA).
A key change is the deficit projection in 201o, which has ballooned from a way too rosy $703 billion to a still too rosy $1.139 trillion, a jump of $436 billion in a short 3 months. Right now there is sadly a broad range of gloomy scenarios which could hit the nation, as shown in the following chart of the projected national GPD (click to enlarge):
There is plenty of room for flat growth in GDP for the foreseeable future. That would translate into flat or falling employment. It goes without saying that GPD could be stimulated with broad tax cuts. In this May 21st CBO report the unemployment picture continues to look very bleak. They are projecting a possible annual unemployment rate of 9.4% for 2009, and a whopping 10.4% for 2010! (note: The 'consensus' estimates are still a terrible 9.1% and 9.7%, respectively).
As I said below, how's that Hope and Change working for everyone – end update
Another month and another round of bad employment numbers, including a strange outlier on the lost job numbers.
Back in February the liberal democrats in DC promised they would create jobs through government 'shovel ready' projects. So far, the billions of dollars allocated to this risky liberal social experiment are stuck in the constipated federal bureaucracy, as show in the graph below were I have been tracking the flow of money in 5 departments and one agency which make up a third of the job creating stimulus money, and include the two primary agencies supposedly leading the way to new jobs (Transportation and Energy).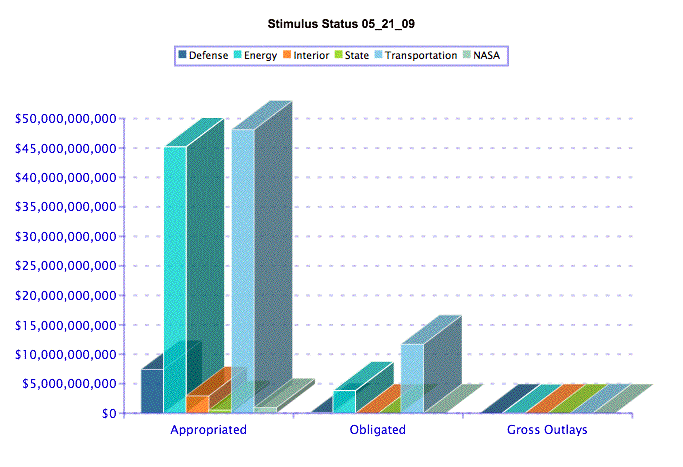 As of 5/21/09, nearly all the stimulus money was still stuck wandering its way through the government procurement processes, with little sign of it trickling out in any meaningful manner any time soon.
The far left columns show the amount of stimulus money budgeted for these 6 government entities – that is the stimulus money meant to create jobs. The center columns represent the amount assigned to specific projects or programs; this is where the bloated bureaucracy has finally determined where and how to spend the money. But it is not going anywhere yet. The last columns on the left (which are basically flat lined) is the money heading out of the bureaucracy and being spent to create jobs.
The totals and percentages for the money budgeted, obligated and dispersed as of 5/21/09 are as follows:
$105,335,650,000 budgeted (~1/3rd total stimulus package)
$15.8 billion obligated (15% of the budgeted total)
~$75 million dispersed to actual work (0.071%).
Today we got the score card on this dismal liberal experiment with the latest unemployment figures, which jumped 0.5% from April and now stands at a mind boggling 9.4%:
With companies in no mood to hire, the unemployment rate jumped to 9.4 percent in May, the highest in more than 25 years. But the pace of layoffs eased, with employers cutting 345,000 jobs, the fewest since September.
I have my doubts about the job cuts being this low. Another independent survey by ADP shows something very different for May, and more in line with the huge leap in the unemployment rate. APD is the primary paycheck service many companies use and which can more directly measure how many jobs – i.e., paychecks – are actually lost every month. Their numbers show no slowing down in the rate of lost jobs:
The U.S. private sector eliminated 532,000 net jobs in May, the fewest jobs lost since November, according to the ADP employment index released Wednesday.
There is a reason we keep losing massive numbers of jobs – there is NO stimulus coming from the federal government. We have massive deficit spending bankrupting the nation and we see nothing in return. This is issue number 1 – as Karl Rove noted yesterday. And he was quite clear on the lack of stimulus coming forth as promised by the Democrats:
Still, there are limits to Mr. Obama's rhetorical tricks. Even he cannot turn job losses into real job gains. And he won't be rescued by stimulus spending.

Former National Economic Council Director Keith Hennessey made a persuasive case on his blog that the stimulus will be ineffective because the additional economic growth it spurs will come six to nine months later than it could have.

This is partly because, as the Congressional Budget Office estimates, only $185 billion (23% of a $787 billion stimulus package) will be spent this fiscal year. The government will spend an additional $399 billion next fiscal year. The balance — $203 billion — will be spent between fiscal years 2011 and 2019 …
Americans can feel this pain and see it every day. We have noted the number of small business closing their doors all around Northern Virginia. Companies we valued and were surprised to see gone. We had lunch yesterday in a major restaurant chain in the middle of a highly developed, jobs rich area – no one was there. It has been that way for months I was told. When I drove around a high tech center of CA a few weeks back I was surprised to see nearly half the street facing businesses closed and endless signs for vacancies.
My guess is the state level numbers (due out in two weeks) are going to show and even worse situation. And I expect to see these rosy numbers for May be adjusted upwards in the near future
The fact is the real unemployment rate (including those who have given up looking for work or are working in part time, lower paying jobs) is a truly frightening number:
But consider these numbers:

-The 9.4 percent May unemployment rate is based on 14.5 million Americans out of work. But that number doesn't include discouraged workers, people who gave up looking for work after four weeks. Add those 792,000 people, and the unemployment rate is 9.8 percent.

-The official rate also doesn't include "marginally attached workers," or people who have looked for work in the past year but stopped searching in the past month because of barriers to employment such as child care, poor health or lack of transportation. Add those 1.4 million people, and the unemployment rate would be 10.6 percent.

-The official rate also doesn't include "involuntary part-time workers," or the 2.2 million people like Noel who took a part-time job because that's all they could get, plus those whose work hours dropped below the full-time level. Once those 9.1 million workers are added to the unemployment mix, the rate would be 16.4 percent.
Emphasis mine. There are 25 million  voters unemployed or under employed. Whoever taps into their concerns will win the next round of elections easily. The question is – who is out fighting for these people, and what are the best solutions? My proposal is just end the pretend stimulus projects, end all the wasteful pet pork projects, delay some systems and programs and sink all of that into massive corporate and individual tax cuts.
Update: Gateway Pundit has a critical chart showing the failure of this President and Congress compared to the last two administrations:
As the saying goes, how's that hope and change doing for you?
16 Responses to "Where Is That Job Creating Stimulus We Were Promised?"