Apr 19 2009
Bumped To Top For The Weekend
There has been a slow moving train wreck in progress for months now, where the American people's anger and frustration is on a collision course with Democrat policies enacted under President Obama. It is definitely not the poor picked on conservatives carping about government oppression from DHS – but more on that later. It's the economy stupid! 
This past week we have seen the stunning results of President Bush's fast action on the banking crisis. Wells Fargo Bank surprised many with its hints it may record $3 billion in profits in the first quarter. JP Morgan is ready to pay back its $25 billion in TARP funds. All of these results, which do not reflect a complete salvation of our banking system by any means, are the results of actions taking late last year. Nothing Obama did in the last 3 months has had much of an effect on these positive events. But now all the rich bankers seemed to have been rescued (or are on their way to being rescued) from our economic tsunami.
So where is average America? GM is and Chrysler were not bailed out, they are facing bankruptcy. And the only thing the taxpayers can see is generations of debt being built up in time spans of months, when it used to be decades to see this much national debt created.
Average America is out of work or working a job well below their potential. Average America is hurting, and they are not liking what they are seeing. They could care less about the fat cats being rescued, they need to be bailed out too! They certainly don't give a damn about the conservative drama queens acting like the paranoid liberals did on charges the NSA was monitoring Americans – see how well that worked for the left?.
Americans are concerned about their personal well being and the future of their families. The following graph was created by the Wall Street Journal to map the bad news on jobs across this country (click the image to use). It shows a stunning unemployment rate in Michigan (home of the auto makers) of nearly 13%! Oregon comes in at 12% and California at 11.2%.
Here are a couple of state specific charts from the US Bureau of Labor Statistics website showing the stunning climb in unemployment since the economic meltdown last summer, first in California:
This is a record breaking year in California – worse than the Carter years:
The California figures contrasted with a national jobless rate of 8.5 percent in March. The new jobless figures are the highest since records first began to be released in 1976.
And we all know how the country changed after 4 years of Carter and Democrats in Congress. And it is expected to still get worse over the summer. Now look at Florida's numbers:
 
Florida's numbers are not as high, but that might be because that state is seeing a lot of people give up on finding a new career job – for now. This can be seen in the massive drop off in their labor market in the last 3 months:
The phenomena is called "under employment", and it can mean the job problem in our economy is much worse than the unemployment numbers show:
April 6 (Bloomberg) — Joseph Ramelo gave up searching for work in January to return to school, two months after he was laid off as a San Francisco election clerk. Antonio Poe is struggling to get by doing part-time landscaping in Greensboro, North Carolina, after losing his job as an electrician.

While such workers are feeling real pain from the recession that began in December 2007, they're not represented in the 8.5 percent unemployment rate the Labor Department reported last week. They are part of a broader group that includes those who want a job but have stopped looking for work and those who want full-time positions but have to settle for part-time employment.

A measure of underemployment that counts those people has almost doubled over the past two years, to 15.6 percent, providing a more complete gauge of the labor market's deterioration.
Where is the bail out for America's workers? Supposedly there was this thing called a Stimulus bill that was supposed to create (or save, as the Obama/Democrat spin always included) millions of new jobs. Well it hasn't, and it won't anytime soon (if ever). The following graph is the latest update on the recovery from the two departments that got a majority of the so called stimulus money (Energy and Transportation). It also shows 3 other departments (State, Interior and DoD) as well as NASA (click to enlarge).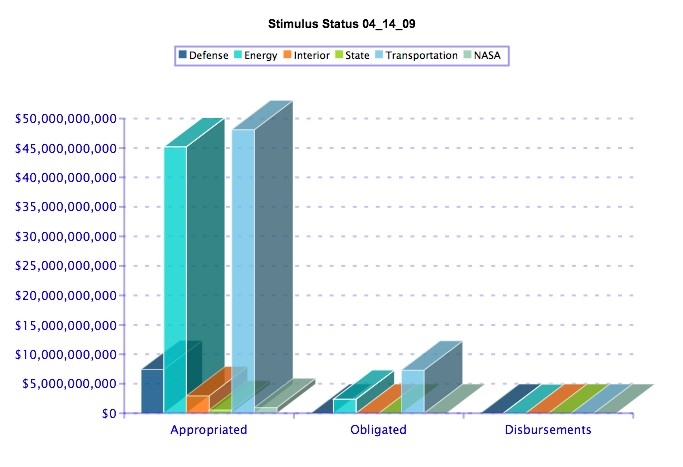 The key take away from the chart is the money is not moving out of DC- so there are no jobs coming. The previous graph from 3/27/09 can be found here, but it doesn't look much different because not much is changing – except the contents of the reports from the government. These weekly status reports used to contain the first column (Appropriated) to show how much money was supposedly in the pipeline, but they have removed that column since my last chart. I will keep the column for comparison because it helps explain the continuing decline in the job market since the money supposedly going to create jobs is not there. So far, not much is moving.
As of 3/27/09 $105 billion dollars had been appropriated across these 6 parts of the federal government. At that time only 4.8% had been 'obligated' to specific projects, and an insignificant 0.0016% ($1.66 million) had actually been dispersed to begin work.
As of 4/14/09 only 9.3% of the money had been 'obligated' ($9.8 billion), and a still insignificant 0.0023% ($2.4 million) had actually been dispersed to begin work.
This is why Obama touts a 900 job program as progress when we are losing over 600,000 a month nationally – that's all he's got to show! It is pathetic.
What is really frustrating is there is no credible opposition to Obama and the Congressional Dems able to point out this situation to America. The conservatives (what's left of them) are running around screaming they are being oppressed like that peasant character from Monty Python's Holy Grail. It doesn't matter how much sanity breaks through through occasionally now on the right, they are damaged goods.
So where does a country go to get some answers? Why is it that the bankers and fat cats are healed, yet average American men, women and families are still deep in the throws of economic crisis? The answer is because government doesn't create jobs – the private sector does.
If this nation was going to go into debt to get out of this mess, it should have cut taxes to spur economic growth, like Kennedy, Reagan and George W Bush did successfully. The government should have primed the small business job creation pump and let it rip. But no, we had to try the same failed socialistic policies that have failed innumerable times across the globe. Now we are going massively into debt and getting NOTHING in return.
This picture is going to change as slowly as the federal bureaucracy crawls even at its fastest speed. Outside of the military, the Feds do not move fast at all, and tend to slow things way down. And this is the slow moving train wreck that is heading right at the Dems and Obama.
38 Responses to "Obama's And The Congressional Democrats' Achille's Heel"