Nov 01 2016
As usual, the source for this data is here.
Yesterday Florida Democrats had a great day (technically it was on Sunday, but reported yesterday) when they cut the GOP ballot lead by 2/3rds and down to 8,912 ballots.  But as I said yesterday, one day does not a trend make.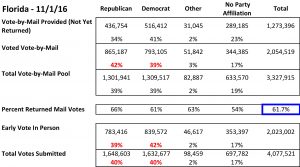 Today's report (ballots through yesterday) shows the GOP gained back a lot of their lead, now with 15,926 more ballots submitted than the Democrats. But more importantly, as the voting continues the percentages are starting to lock in.  The GOP is winning the mail-in voting 42-39% (sec0nd row). The Democrats are winning the in-person voting 39-42% (4th row).
Which leaves the two parties in a 40-40% tie overall (last row). So not really any change for the last 4 days or so.
I still maintain Clinton needs to meet or exceed Obama's 2012 edge in earl voting ballots (40-43%) to even have a chance of winning FL. Without that edge I can't see her winning.
One Response to "FL Early Voting 11_01_16: GOP Resurgence, Expand Lead"