Oct 29 2016
The GOP continues to slowly extend its lead in Early Voting ballots in FL. Their lead has grown from 14,349 yesterday to 22,736 today: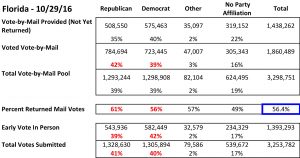 The GOP continues to hold the lead in overall ballots submitted (last row) 41-40%. While Democrats hold an edge in In-Person voting by 39-42%, the GOP is leading by 42-39% in Mail-In voting.
Just a reminder: in 2012 the Democrats submitted more Early Voting ballots than the GOP by ~129,000. That edge was needed to push Obama over the top by 74,309 votes. Hillary and the Dems are clearly falling behind the 2012 benchmark. I would not be surprised if FL falls out of reach of the Dems by next week.
4 Responses to "FL 10_29_16: GOP Lead In Ballots Keeps Growing"