Feb 01 2010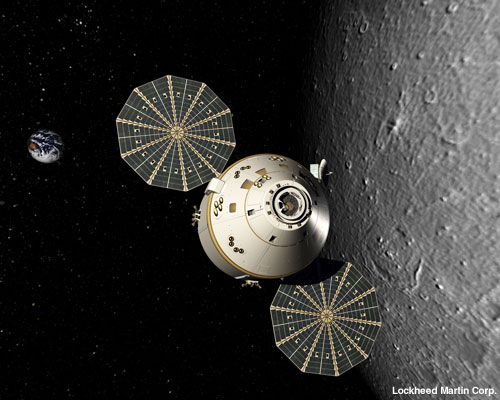 I have no idea who is talking inside the current administration regarding technical matters, but whoever they are they are pretty damn dumb. The global warming charade is probably the best known march of the ignorant, but it is not the only example of people trying to make decisions about things they have no business making.
Now it seems someone in the White House thinks we can just buy a manned spacecraft off the lot:
NASA's grand plan to return to the moon, built on President George W. Bush's vision of an ambitious new chapter in space exploration, is about to vanish with hardly a whimper.

…

Obama's budget, according to a background briefing by an administration official on Sunday, will call for spending $6 billion over five years to develop a commercial spacecraft that could taxi astronauts into low Earth orbit. Going commercial with a human crew would represent a dramatic change in the way NASA does business. Instead of NASA owning the spacecraft and overseeing every nut and bolt of its design and construction, a private company would design and build the spacecraft with NASA looking over its shoulder.
Or we can design special fairy dust and fly like Tinker Bell.
What is even more stunning is that this is not even a cost savings to the public (nor shovel ready). The Orion Crew Exploration Vehicle (which is now under contract and being built) was originally budgeted for $3.9 billion. I seriously doubt it will stay there, but it has been through requirements definition and preliminary design. Why start over and throw tens of thousands of people out of work  in the process?
And I am only talking the jobs associated with Orion and Ares (the launch vehicle). There are more jobs to be lost this year when the Space Shuttles are retired:
The administration estimates the new funding for the commercial program would create up to 1,700 jobs, which could help offset the expected loss of 7,000 jobs in Florida when the space shuttle is retired next year.
Typical Obamanomics math, they don't even get the lost jobs numbers right. The 'reasoning' for this change used in the article is mind boggling naive:
"The Defense Department began using commercial rockets a long time ago to launch priceless national security satellites, that our troops' lives depend on. If the Pentagon can trust private industry with this responsibility, we think NASA can, too," Gedmark said.
Rockets are not crew vehicles (no air, food, waste disposal, pressure, etc). The US Air Force DOES NOT trust private industry to its 'manned vehicles'. Neither does the Navy  for its ships or the Army for its tanks and guns. They specify every nut and bolt. I am just wondering who is so gullible (outside the news media) to buy these 3rd grade excuses to do dumb things?
Is there some special reason (or corporate buddy) driving the White House to throw away all the work (and money) to date, and go with a solution 33% more expensive? This smells of funneling money at great taxpayer expense to me.
Or is this just more childish Bush Derangement Syndrome at work? That seems likely.
I should have known better. Anyone who thinks they can re-architect the dynamic, innovative and enormous health care system of this nation is clearly delusional and suffering from a demigod complex. Since they are pretending to be doctors and nurses, I guess pretending to be astronauts, engineers and entrepreneurs is not a surprise (since none of them have a clue what those careers are all about either).
All I know was I was hoping mankind would return to the stars in my lifetime, as we did with the Apollo mission and John F Kennedy's dream of visiting the Moon (I was 9 when humans first stepped on the Moon, I was 12 when the missions stopped). Obama the job killer is also Obama the dream killer. Heaven help us these next 3 years.
45 Responses to "Our Dream Is Dead"