Nov 13 2009
Ed Morrissey caught my eye with this post on October's mind boggling deficit number:
The federal government busted the budget worse than last October by $20 billion with a deficit of $176.36 billion for the month.  That used to be considered a decent deficit target … for an entire year …

…

It's roughly four times as large as September's deficit, which closed out FY2009 with an annual deficit just under $1.4 trillion.  September's deficit of $46 billion will serve as a nostalgia point in the coming months of the FY2010 budget.
Doing some crude and quick math that would result in a $2.1 trillion dollar deficit for GFY 2010 if that was repeated for the next 12 months. Fortunately for us monthly deficits are actually quite fluid, but if you look at this AP News chart, it is still not good news:
This October is worse than the one that started us off last year. Worse yet, we are not seeing the expected slow down in deficit spending the liberals in DC promised would occur if their economic stimulus scheme was enacted. In fact, since February, when the liberal faux stimulus bill was enacted, the deficits have been staggering.
All the liberal bogus budget projections we have been seeing assume some kind of pending economic recovery that will increase revenues to turn things around. This deficit data is only one example this turn around is not happening.
Let's look at some CBO charts to see what the problem is and whether we can assume the economy is on the mend. First, look at receipts vs outlays from the latest monthly budget report:
Just look at those lines diverging at an incredible rate, each racing away from the other. The DC liberals have control of the blue line (outlays) and it shows they have been on a spending rampage bankrupting us while feeding us BS data and promises. The red line is what they should have been following by cutting the spending. Worst of all, the rate receipts are dropping is not showing any sign of leveling off.
The following CBO graph shows the deficit as a percent of GDP, another indicator that we cannot continue this liberal madness:
If the Democrats don't stop spending like mad drunken sailors this nation will be damaged for generations (it already is to some degree). Liberals need to admit their theories and schemes were disastrously wrong. They need to stop pretending.
There will not be increased revenues/receipts while we keep losing jobs and limp along with massive numbers of underemployed. The income tax is the prime funding source for the government. With unemployment (U3) and underemployment (U6) continuing to rise there is no way for revenues grow (click to enlarge):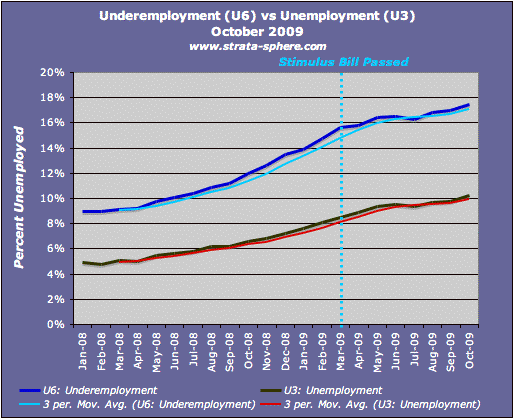 That is not true of spending/outlays. The outlays for unemployment are skyrocketing as the only tangible and measurable result from the stimulus package has been the addition of over 2 million people to the Emergency Unemployment Compensation (EUC) rolls – the last resort for the chronically unemployed (click to enlarge):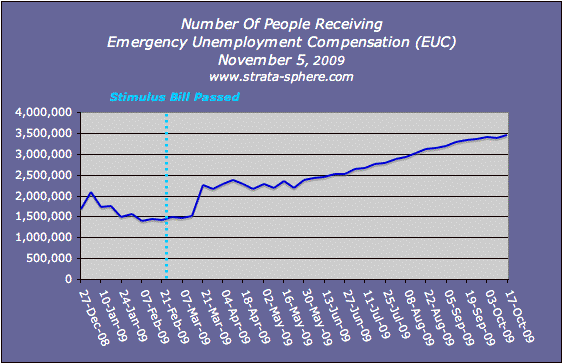 This 'recession' has been like no other in terms of the damage it has done to the fabric of our economy. Here is a terrifying list of the many ways this recession is historic, and why the lame liberal fantasy of vast government spending pulling our economy out of its nose dive was as naive as it has been impotent. Bottom line, we have not reached bottom on the unemployment yet, therefore we have not seen the bottom of reciepts.
And what about that mythical stimulus bill which had to be rushed through Congress so it could stave off all this economic bad news? The money is stuck inside the bloated and constipated federal bureaucracy. Here are the charts I have been using to monitor 6 of the federal organizations which were going to spend us into happy economic days. They represent one third of the stimulus job creating money in that idiotic bill ($105 billion).
On average these government entities have yet to spend even 10% of the stimulus money, which means we are racking up these history breaking deficits/debt and have not even begun to spend the stimulus money yet!
Graph 1 shows the amounts appropriated/budgeted (far left column) amount obligated to actual projects/programs (middle left column), amount spent (middle right column) and amount left unspent (far right column) – click to enlarge).
Graph 2 shows the the percent of the total budgeted which has been obligated to actual projects/programs (left column), percent spent (middle column) and percent unspent (right column) – click to enlarge:
50% has been obligated to actual projects, but the other 50% is still in bureaucratic limbo. Only 6% ($6.5 billion of $105.3 billion) has actually been spent. In a $10+ trillion economy that is nothing.
No wonder there are no real jobs being created, therefore no increase in receipts. Instead of an economic recovery we get economic gimmickry from lying liberals in deep denial over the failure of their fictional theories. We get fudged reports of economic progress.
Case 1: Mythical 'created/saved' jobs exposed by the Boston Globe
Case 2: The magical job creating lawn mower
My previous posts on the faux jobs reportedly created by the faux stimulus bill:
Bogus Jobs "Created Or Saved" Claims By Obama Administration
More Bogus Job Claims From The Obama Ministry Of Misinformation
It's Still The Unemployment Driving The Electorate
If BS was economic fertilizer the liberals in Congress and the White House would have turned this economy around already with their false promises and pretend gains.
11 Responses to "DC Liberals Have Bankrupt America After Only One Year In Power"