May 23 2010
Updates At The End
One thing that has bothered me throughout the recent incidents of terrorism inside the United States on President Obama's watch is why more people are not raising alarm bells on how dysfunctional our national security has become? Where are those dedicated souls whose primary goal in life is protecting this nation from harm?
I have documented a timeline of screw ups and missteps inside the Obama administration as it attempted to dial back our nation's sensitivity to potential terrorist attacks. Basically, in the early months of 2009, the liberals inside the Obama administration created excuses NOT to investigate terrorist leads. All of this was tied to the issue of GITMO and detaining enemy combatants vs. mirandizing terrorists.
We have seen the result of these 2009 discussions as AG Holder mirandized the terrorists involved with the Ft Hood Massacre, the nearly successful Christmas Day Bombing over the skies of Detroit and the bungled Times Square bombing. Since October we have seen 1 successful attack and two near misses (which only failed due to incompetence by the terrorists and quick thinking by nearby civilians), yet still the Obama administration refuses to admit it is using the wrong policies for the threats we face. And then there is this deathly silence inside the national security organizations (or a news media muzzle).
When dealing with terrorists you have to have an overarching coherent (if not suicidal) policy. Therefore what is determined for enemy combatants impacts surveillance efforts. If people of suspicion are not enemies of war to be detained, they become simple criminals with a higher level of protection of their rights. Protection which is implemented by higher requirements for determining probable cause. How we as a nation legally react is dictated by the environment and conditions surrounding the incidents.
In war time we have a hair trigger on threats, and we are fast and brutal in our response, a response usually determined on the battlefield in real time (its war after all). In tense and dangerous times (or situations) we have a hair trigger to threats, but we are careful to focus our preemptive strike to the source of the threat and allow for some deliberation and checks. In peace time we are slow and deliberate, assuming little threat to our nation, giving all sorts of time and benefit of the doubt to the accused. These are the legal cadences we have established and operated under for two centuries. They are mutually exclusive and were not meant to be mixed (e.g., we did not Mirandize Hiroshima).
What Holder, Obama and others are attempting to do is use the wrong response (peace time deliberation) on the battlefield and as a replacement to preemptive actions on major threats. It is  their total ignorance of why we have these escalating responses – which of course is to protect this nation and its people – which entices them to make boneheaded decisions they make.
Last year, as I noted in the post above, Team Obama began to restrict when we would use our hair triggers and when we would use the slow due process of the courts:
With the president's directions in hand, Mr. Obama's Justice Department came back on March 13, 2009, with a more modest position than Mr. Bush had advanced. It told Judge Bates that the president could detain without trial only people who were part of Al Qaeda or its affiliates, or their "substantial" supporters.

…

There was broad agreement that the law of armed conflict allowed the United States to detain as wartime prisoners anyone who was actually a part of Al Qaeda, as well as nonmembers who took positions alongside the enemy force and helped it. But some criticized the notion that the United States could also consider mere supporters, arrested far away, to be just as detainable without trial as enemy fighters.
What this meant was lots of marginally or distantly related allies could not be determined to be enemy combatants – there protections went up and our risk went up. That was especially true for American traitors like Anwar al Aulaqi, who is tied to all three attacks since last October. To act preemptively meant the government had to have already proven the suspect was a terrorist – which was impossible in the cases of Hasan, Abdulmutallab and Shahzad.
This insane determination actually lines up well with pre-election comments by Holder, and especially by Obama's terrorism advisor John Brennan:
I would argue the government needs to have access to only those nuggets of information that have some kind of predicate. That way the government can touch it and pull back only that which is related. It's like a magnet, set to a certain calibration. That's what I think we need to go to.

In the immediate aftermath of 9/11, the threshold, quite frankly, was low, because we didn't know the nature of the threat we faced here in the U.S.

[Post 9-11] Every effort was made by the government to try to get as much understanding and visibility into what else might be out there that's going to hurt us again. Now that a number of years have passed, we need to make sure the calibration is important.
The wording is classic bureaucrat babbling, but it has a meaning. It meant Brennan, Holder and Obama concluded they knew enough about the threat to adjust our early warning network to be much less sensitive and intrusive on suspects. They were arrogantly wrong. Their changes introduced openings that al Qaeda and its allies exploited with surreal success.
Which brings me to the recent Senate Intelligence Committee Report that outlined 14 screw ups made on President Obama's watch in light of the three terrorist attacks. To assess this kind of report one really has to understand how federal reports and proclamations are created. This aids in seeing the wispy hidden context bureaucrats are loathe to clearly state on the record. Bureaucrats hate to point fingers too much, because they all know they live in glass houses. It is like a den of thieves and their code of honor – never to turn on one of their own.
Each of the 14 conclusions in the report has a hidden context, Â a context not obvious to someone outside the government but completely visible to those who wrote the report. Which means the shape and form of the context are there for trained eyes to detect. I believe I can tease out some of this context (with unknown accuracy and precision).
So let's look at what the report says in some key areas. Let's begin with one of the conclusions made up front (top of page 3 – click to enlarge):

What the Senate Select Committee on Intelligence determined was the dots were there in the system. Some of these attacks were preventable. That is important because now what we need to understand is what barriers were stopping the connecting of dots. Was it policy and politics?
One of the the top findings in the senate report was the idea elements of the intelligence community should have put Christmas Day Bomber Umar Farouk Abdulmutallab on the No Fly Lists. Here is that finding (click to enlarge):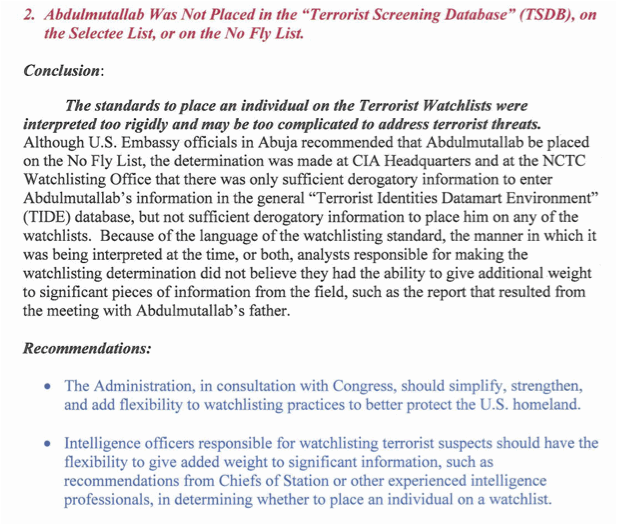 But this finding is completely at odds with the testimony of the IC community, specifically the National Counterterrorism Center (NCTC):
Before the September 11 terrorist attacks, intelligence databases and watchlisting systems were badly disjointed. They were neither interoperable nor broadly accessible and, as a result, two of the hijackers – although known to parts of the U.S. Government in late-1999, were not watchlisted until late-August 2001.
To fix that systemic problem, the U.S. Government implemented Homeland Security Presidential Directive-6 (HSPD-6) in the Fall of 2003. Under the construct of HSPD-6, all collectors would provide information on known and suspected terrorists (except purely domestic terrorists) to NCTC which maintains a TOP SECRET database called the Terrorist Identities Datamart Environment (TIDE). Every night a FOR OFFICIAL USE ONLY extract of TIDE is provided to the Terrorist Screening Center (TSC) to support all U.S. Government screening operations.

The determination of what information is passed from TIDE to the TSC is governed by the "reasonable suspicion" standard which describes the minimum derogatory information for inclusion on the consolidated watchlist.
That criteria, approved by the Deputies Committee in the Fall of 2008, notes that "individuals described as militants, extremists, jihadists, etc should not be nominated without particularized derogatory information."
The implementing instructions further state "those who only associate with known or suspected terrorists, but have done nothing to support terrorism" are ineligible for the No Fly List (NFL) or Selectee List (SL).
Based on this Abdulmutallab could not be on the list until after he committed and act of terrorism. What we see in the NCTC testimony is a very clear statement of what changed – and when – between the Bush administration and the Obama administration. What is obvious here is that, as it became clear Obama would win (and Bush was out in any case), the liberals inside the national security organizations (of which Brennan is a close brethren) began making the changes Brennan and Obama clearly indicated they would accept and support. These first changes were agreed to in the Fall of 2008!
It was no longer sufficient to be a known as or be a self proclaimed "militants, extremists, jihadists, etc". There had to be some other evidence. Worse yet, "those who only associate with known or suspected terrorists, but have done nothing to support terrorism" (YET!) were not allowed to be put on the the more serious watch lists.
Now I understand the dead silence and the apparent circling of the wagons in the Intelligence Community. These people colluded with team Obama to dismantle our defenses, and were so excited by the idea they began doing the dismantling before Obama took his oath of office.
It is no secret factions inside the national security organizations were at war with the Bush administration. From Joe Wilson's lame attempt to use his wife's knowledge of forged Nigerian documents to create the false claim President Bush concocted intelligence to support the Iraq war, to the traitors who outed the changes to NSA and FISA to the NY Times, incorrectly claiming Bush was bypassing FISA (when in fact he forced FISA to accept NSA leads as legal probable cause) the war has waged. All through Bush's presidency there was a radical element inside the national security and intelligence community who tried to influence elections and scar President Bush. Sadly there are plenty of useful idiots in the country we were glad to be play the naive puppets.
But what is now abundantly clear is that this same community of liberal zealots changed our national security posture – changes supported by President Obama, AG Holder and advisor Brennan. The one person on the inside who did not support these changes has now been fired by Obama.
I will have further posts on the SSCI report given this new perspective, but let's be clear. The liberals zealots in the intelligence community are in cahoots with the liberals in Congress and the White House, and they all have taken actions which led to the deaths of many Americans and the near deaths of hundreds of others.
They have put this nation at risk, and there needs to be an investigation to make sure zealots can never risk American lives again without being responsible for their idiotic actions.
Update: In a related story, no one wants to lead the dysfunctional intelligence community, which is no surprise. Who would want to take the blame for all the future results that will hit us because of all these past mistakes?
Update: Rep Pete Hoekstra sees it the same way I do – a lone voice in the wilderness:
"Right now, the Obama administration's national security apparatus is broken, dysfunctional and in disarray," Hoekstra said.  "Dennis Blair was the one person you could count on for rationality among Holder, Napolitano and Brennan—and he's the one the president let go."
18 Responses to "Liberal Zealots Took Control Of America's National Security Before Obama's Inauguration"