Jul 10 2009
It seems the Dems are really up against a wall, and it all goes back to their dumb plan to 'stimulate' the job market with federal spending – which will not show up the end of this year at the earliest. The problem they gave themselves, by avoiding the tried and true tax cuts and limiting spending, is a year or unemployment hell:
Just eight of 51 economists in The Wall Street Journal's latest forecasting survey said more stimulus is necessary, suggesting an average of about $600 billion in additional spending. On average, the economists forecast an unemployment rate of at least 10% through next June, with a decline to 9.5% by December 2010.

"The mother of all jobless recoveries is coming down the pike," said Allen Sinai of Decision Economics.
No jobs recovery before the 2010 elections. Gee, imagine how that will play out on the voters. I have 5 little words for the Dems in DC: "jobs, jobs, jobs and jobs" (Nancy Pelosi counted this as 4 words of course).
There will only be a new stimulus bill of the Dems become so desperate to pretend they are doing something they sink the country into further debt in a vain and useless attempt to save their hides in 2010. Which is why I seriously doubt the Dems can pass any more pretend stimulus BS.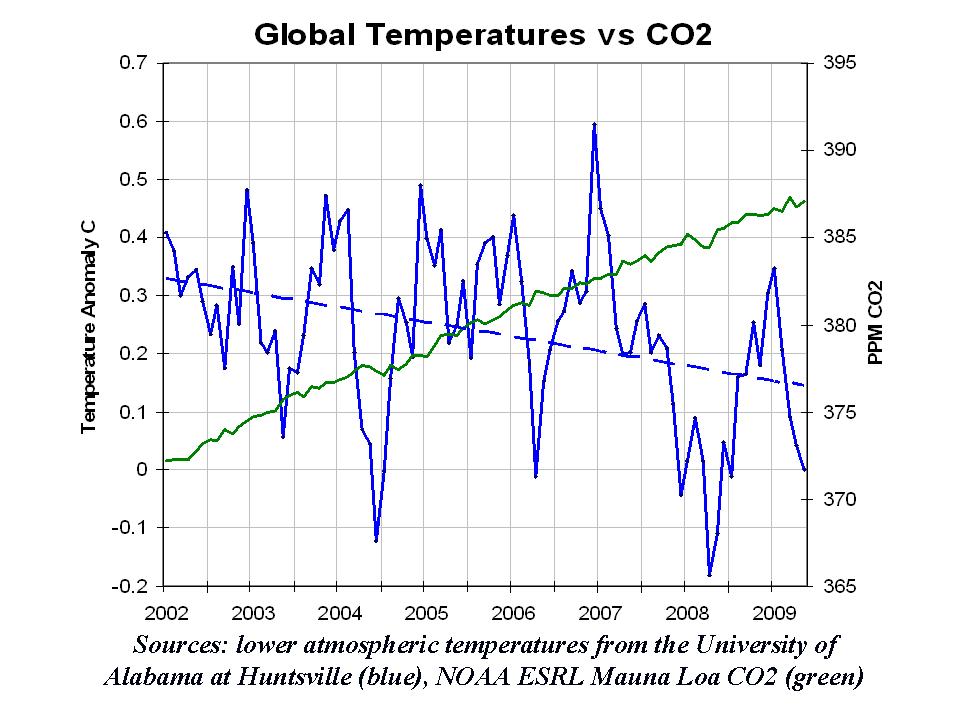 But the bad economy, and the Dems' renowned bad decisions to deal with it, have put other riskier and crazier schemes on hold. As we enter the 11th year of global cooling (click image above and see  here) with ever rising CO2 levels, the Senate dems are balking at another job killing liberal experiment (there is no science behind the policies):
Senate Democrats have punted climate change deeper into the fall, a delay that underscores the steep climb the White House faces in convincing Congress — and the world — to dramatically slash greenhouse gas emissions.

 

The decision came Thursday, a day after Senate Majority Leader Harry Reid met with White House energy adviser Carol Browner and six Senate committee chairmen and the group realized it would need additional time to finesse a deal that could pass theSenate.

 

"There are a number of committees that need a little more time," Reid said Thursday, setting the new climate bill deadline for Sept. 28.
Consider that one dead for the foreseeable future. After a summer of rising unemployment there will be no support to make the problem worse and raise the cost of energy on everything we consume and use.
Another liberal crazy idea is to disturb the one thing we Americans still enjoy – the best health care in the world. Yes, it is expensive, but most life saving or life altering procedures are expensive. Cheap health care, the Dems measuring stick, is just like a cheap car. And many Congressional Dems know this:
Conservative House Democrats are demanding significant changes before they can support a sweeping health care overhaul, forcing the House to join the Senate in delaying action on President Barack Obama's top domestic priority.

The Blue Dog Democrats' list of demands came on the eve of House Democratic leaders' planned unveiling of their final bill Friday. The bill release was pushed back to Monday at the earliest and Democratic leaders agreed to devote Friday to meetings with the fiscally conservative Blue Dogs to work through their concerns.

These include the need for more cost containment measures, protections for small businesses and a focus on rural health care.

"We cannot support a final product that fails to" address these issues, members of the group wrote to House Speaker Nancy Pelosi and Majority Leader Steny Hoyer. Opposition from the 52-member group could imperil House passage of a bill.
It seems reason is the biggest challenge to liberal fantasies this year. What a surprise.
7 Responses to "No 2nd Stimulus, No Whacky Global Warming Bill, No Government Run Healthcare"