Apr 11 2009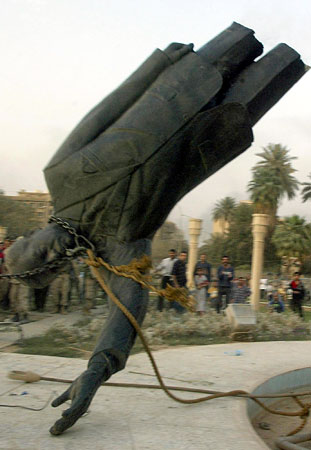 While the far right melts down before our eyes, I am glad to see the Obama administration redoubling their efforts to bring total and final victory to Iraq. This is not a time for politically myopic hopes that President Obama to fail America and her fallen heroes. Â There is simply too much at stake:
April 9 marked the sixth anniversary of Iraqi Liberation Day. Most of us vividly remember the stirring image of Iraqi citizens tearing down the statue of the man who dominated their lives. 

…

 

In February 2004, my son, Spc. Michael Carlson, arrived in the Diyala province of Iraq. During the next 11 months he and his team searched houses, hunted insurgents, and made a difference in the lives of the Iraqi people. I think about him today because I miss him very much.

He gave his life in an overturned Bradley fighting vehicle in a water-filled canal, one week before the first Iraqi elections in January 2005.

I think about what his service to our country meant to him: defending and protecting us. But it goes further than that because Michael had a vision of his life that few young people have, and amazingly he put that vision on paper while in high school. In May 2000, Michael wrote that he "sometimes dreams of being a soldier in a war." In this war he is " helping liberate people from oppression." He wrote the only way that one could live forever "is to live on in those you have affected." These are prophetic words.

 
This is why politics needs to end at the waterfront. This is why country and sacrifice transcend political parties. This is why true patriots and supporters of our military would gladly sacrifice some political ground so that these kinds of sacrifices do not become wasted lives, but mean something to history.
I will continue to applaud our President went he takes the right steps. And on Iraq, he and his administration are taking the right steps:
US troop numbers in Mosul and Baqubah, in the north of the country, could rise rather than fall over the next year if necessary, General Ray Odierno told The Times in his first interview with a British newspaper since taking over from General David Petraeus in September.

…

Combat troops are due to leave all Iraqi cities by the end of June. Any delay would be a potential setback for President Obama, who has pledged to withdraw all combat forces from Iraq by August 2010 as he switches his focus to Afghanistan.
These are tough, unpopular positions. Obama is really irritating his far left base.
President Obama's new $83.4 billion supplemental war request, which brings the cost of the conflicts in Afghanistan and Iraq to $1 trillion, drew fire Thursday from anti-war North Bay Rep. Lynn Woolsey.

…

Woolsey, D-Petaluma, who co-chairs the Progressive Caucus, had said in an earlier interview that she can't support raising troop levels. She came out Thursday with this statement:

"As proposed, this funding will do two things – it will prolong our occupation of Iraq through at least the end of 2011 and it will deepen and expand our military presence in Afghanistan indefinitely.

"I cannot support either of these scenarios.
But since the far right has pushed the political center of the country away, Obama can now rely on support from that segment of the population when continuing the policies and approaches of President Bush. All I can do is pray we succeed in Iraq and be worthy off all that sacrificed blood. President Obama is taking the steps to help make that happen. I hope he and we succeed.
2 Responses to "Obama Administration Standing Strong Against al Qaeda In Iraq"