Mar 09 2009
Everyone likes to talk about tipping points in politics. Well we may have just hit one with the pork ridden Spendulus bill, followed by the pork laden Omnibus bill, followed by the economic down turn in the markets (if the DOW is a tracking poll, public opinion is heading into the tank). 
The liberal spend-fest will not turn this economy around. Bailing out banks and home owners who recklessly got into mortgage trouble is not what America wants (they would prefer those who kept their heads above water get bailed out). All indications are America's mood is souring – and fast. Check out the latest Rassmussen tracking poll on Obama, it shows an interesting trend.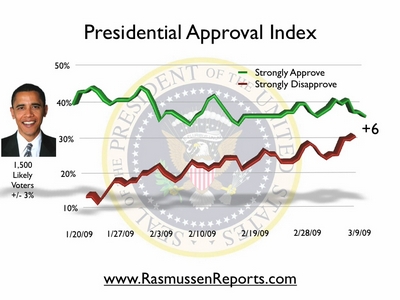 Click image to go to poll page. The Rasmussen poll following the markets into the tank. Obama is rapidly heading towards a one term failure, unless he gets his act together and starts leading instead of being led by the liberals in Congress (who don't have poll numbers to cheer about either).
Addendum: Rasmussen has a poll up where you can predict what the tracking poll will show on by April 30th (100 days in). For the record I predicted -6%.
17 Responses to "Obama's Support Is Tanking"