Nov 12 2008
There is a barometer for Americans to assess how well the Dems and Obama are doing – the right track/wrong track poll numbers. Since the election USA Today/Gallup checked the pulse of America and the election of Obama has not moved the needle: it is still pegged at 13% right track and 84% wrong track. People want to see results, they are not buying into promises and fantasies. So we should keep an eye on this chart for the next 6 months to see how Obama and the Dems are doing: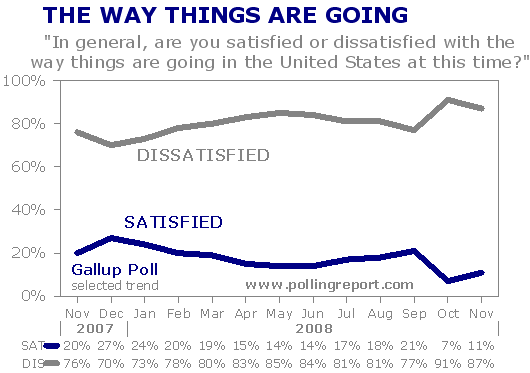 The problem for the Dems and Obama are ridiculously high expectations. Obama promised Nirvana and now he and the Dems have to deliver. Check out this other poll data to appreciate the dangers ahead for the left:
Americans have soaring hopes for the incoming Obama administration and an even higher opinion of the Democrat they just elected president, a new USA TODAY/Gallup Poll shows.

…

Almost that many — 65% — said they think the country will be better off four years from now.

…

A lower level of optimism greeted President Bush and former president Bill Clinton when they were first elected. In both cases, slightly more than 50% said they thought the country would be better off in four years.

…

Nearly two-thirds in the poll, 64%, said Obama's top priority as president should be improving the economy. Majorities said it is critical or very important that he sign new, stricter regulations on financial firms and help people facing foreclosure. Nearly half said the same about passing a tax cut for the middle class.

Expectations for Obama are high across the board. Eight in 10 said he will improve conditions for minorities and the poor, and 76% said he'll increase respect for the United States abroad.

About seven in 10 said he'll be able to improve education and the environment. More than 60% said he will reduce unemployment, bring U.S. troops home from Iraq, improve the health care system, create a strong economic recovery and keep the U.S. safe from terrorism.
The American voters expect Obama to get out his magic wand and start fixing things. And don't kid yourselves, they will not be waiting four years. He will end poverty, cure disease, raise everyone's income and provide the best damn jobs on the planet! LOL! What we may have here this year is the once in a generational lesson on the limits of power and government. Every 30 or so years enough naive voters decide to come out and vote for the next Pied Piper of Plentiful Promises!
And then we get back to reality and remember why believing pols is a fool's errand. My guess (and you know how bad my predictions can be) is the wrong track number stays damn high for a long time, as does the negative impression of Congress. The Iraq War, waged over 5 years, will look easy in comparison to righting the economy and bringing on Nirvana. But hey, that is what the Dems promised and that is what they are now required to deliver.
12 Responses to "Taking The Pulse Of America On Obama & The Dems"