Sep 18 2008
It seems if one looks at recent satellite data on the global atmospheric temperature something very interesting has occurred – the Global Warming of the last 15+ years has DISAPPEARED!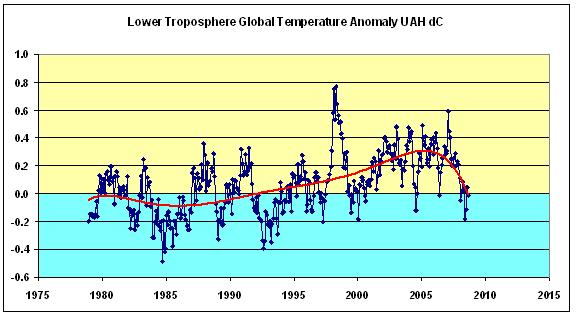 H/T Icecap (full image here). It's all gone, simply gone. CO2 emissions have been increasing the entire time. Humankind has not done anything of any significance about our activities. Yet some force has wiped out all the Global Warming the Chicken Littles over at the Church of Al Gore/IPCC were clucking about being the end of the world and civilization.
It seems that most of the Global Warming IS NOT driven by man, as one real NASA Scientist noted to Congress this year. The very important discovery that 70% of the Global Warming was due to natural forces should have been headline news, and those who cried we were all doomed should have been laughed out of the square of public debate. But now we have clear evidence the driver is nature. In 3 short years all the Global Temperature increases we were wringing our hands over are now gone.
Don't expect this to hit the news, though. Too many people believe the liberal media fantasy, and it would be a blow to their self confidence to face some scientific data head on. For those who do want to know what is going on, based on the current scientific data, then this is the place you want to be getting your information:
A cool-water anomaly known as La Niña occupied the tropical Pacific Ocean throughout 2007 and early 2008. In April 2008, scientists at NASA's Jet Propulsion Laboratory announced that while the La Niña was weakening, the Pacific Decadal Oscillation—a larger-scale, slower-cycling ocean pattern—had shifted to its cool phase.
As in most organizations there are clowns and leaders. I'll let you decide which NASA scientists fit in which category.
8 Responses to "Where Did All The Global Warming Go?"