Sep 12 2008
Bill Clinton is one of the most popular Democrat heroes of all time. Yet he took power of the White House while dems controlled both houses of Congress, and when he was done all three were in GOP hands. Go figure, in my world that is a disaster.
Barack Obama seems to be ten times more gifted than Clinton. He may be able to tear down the Dems in Congress just running from for President, not actually serving (which seems less and less likely with each passing day).
When Obama's lame lipstick schtick erupted I said the election was over. I said proof will come when the seasoned polls started backing away from Obama:
How bad is this mistake? Watch Biden and Hillary and the other Democrats and see how much they are willing to personally stake on the event. Some radicals are in to the end and will sink to any low to grasp onto the dream. But many will back off to save themselves.
The dems are now concerned the sinking SS Obama will take a lot of them down with it:
Democratic jitters about the US presidential race have spread to Capitol Hill, where some members of Congress are worried that Barack Obama's faltering campaign could hurt their chances of re-election.

Party leaders have been hoping to strengthen Democratic control of the House and Senate in November, but John McCain's jump in the polls has stoked fears of a Republican resurgence.

A Democratic fundraiser for Congressional candidates said some planned to distance themselves from Mr Obama and not attack Mr McCain.

"If people are voting for McCain it could help Republicans all the way down the ticket, even in a year when the Democrats should be sweeping all before us," said the fundraiser, a former Hillary Clinton supporter.

"There is a growing sense of doom among Democrats I have spoken to . . . People are going crazy, telling the campaign 'you've got to do something'."
A lot of my readers laughed at me that the lipstick Schtick was so bad. In of itself it wasn't. But in the broader picture of Sarah Palin walking out of Main Street USA to shake up the arrogant snobs in the Political Industrial Conplex, and with the liberal media and denizens of the fevered swamp sling slime at Palin, the pig comment was the tipping point – the last straw.
A line has been crossed that will not be uncrossed. The fact down ticket dems are starting to back off means the sinking of Obama is going real and serious. This will have a ripple effect as the lack of confidence in the Chosen One expands, hurting fund raising and support, creating even more danger signals. Obama will not last the month of September.
He is an amateur, and the dems knew this when they pushed him into the slot over Clinton. Now they get to live with the results of that incredibly dumb decision. This was never going to be American Idol.
Update: Reader Cepan (Mat World View) linked to some Gallup Poll numbers which must have the Congressional Dems fearing for their gavels. What was once a commanding lead in the generic balance is now a tie, and that means America may be ready to "throw the bums out":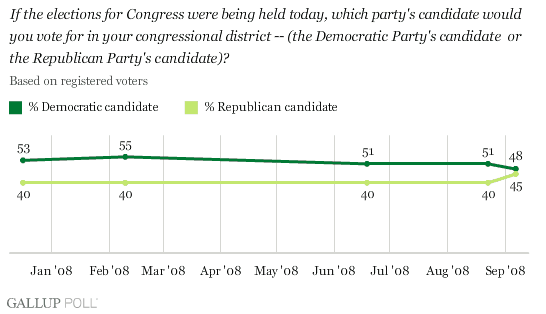 Those 80% wrong track numbers may be finding a target to punish. Maybe not all that surprising after doing nothing about energy while prices sky rocketed, being completely wrong about the Iraq War and pushing for surrender and being basically useless, Congressional Dems have been reckless and careless because they believed the voter anger would remain on Bush/Cheney. But as I have said for over a year (especially on the Surge) when it came down to voting this year it will be the Dems on the tickets.
Now with their pathetic and repulsive treatment of Sarah Palin the dems are losing support quickly. This may be one for the history books in many more ways than one. Look, for Sarah to succeed (unlike Nancy Pelosi) she will need a mandate and allies. Women are smart, they know the future for their daughters rests on Palin not only winning office, but getting the opportunity to show her stuff. With the opposition to that happening now firmly seated in the Democrat Party, the barrier to women's final victory for equality is easily identified. A simple mass voting till take care of that one.
The dems may be in a lot more trouble than they think. I still say we cannot yet measure the size of the Palin phenom after one brief week. It may just be beginning to build.
13 Responses to "Obama Sinking Dems, Not Just Himself – Election Over (Updated)"