Sep 08 2008
On Friday Obidenama had a 6 point lead in the newly launched Hotline daily tracking poll. Today that lead is gone and the poll shows a dead heat. Right in line with other horrible poll news coming out today.
I think we can thank both Governor Sarah Palin for bring new blood and life to the GOP side (and of course McCain for having the guts to make the choice), and we must thank the liberal nutcases who viscously attacked Palin and her family – from blogs, to media, to talking heads and pols themselves. Without their Taliban-like response to Palin the nation would not have turned in to watch her in such large numbers, and would not be so repulsed by the liberal left that they are marching to the GOP as they Awaken to the ugliness that lies under the liberal facade. If people prefer me to use 'Neanderthal' vs 'Taliban-like' I think I can accommodate that.
Are people racing for the exits in the Democrat Party? According to the Gallup/USA Today poll, yes they are (H/T Ed Morrissey and Allah Pundit):
In the new survey, more voters call themselves Republicans. Now 48% say they're Democrats or lean to the Democratic Party; 47% say they're Republicans or lean to the GOP.

Not since February 2005, right after Bush's second inauguration, have Republicans been within a single point of Democrats in party identification.

What's more, voters by 48%-45% support the Democratic candidate in their congressional district, the party's narrowest advantage this year.
So the American people are jumping ship on the dems. This is one election for the history books, and the hysteria books. My guess is the liberals will now blame the American voter for being racist as they dump Obama. They couldn't possibly accept that the cause is liberals are basically repulsive!
Previous posts on polls:
Undecideds Massing Towards McCain-Palin
McCain-Palin Take Crushing 10% Lead With Likely Voters
Update: And the bad poll news keeps coming, Now Gallup Daily Tracking is showing a McCain/Palin Surge: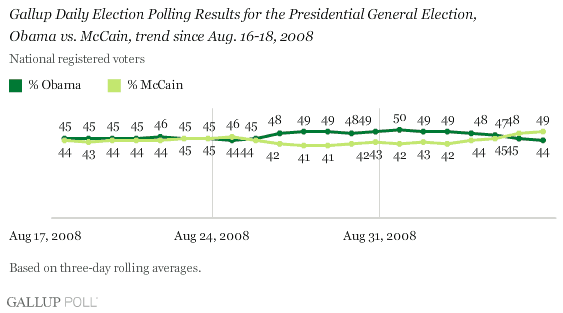 O-bomba!
Update: CNN comes out with their 'poll' nothing has changed in the world of politics over the last week! LOL – hey folks, filtering reality doesn't make it go away, it just makes you ignorant of what is happening in the world. Try taking those blinders off. I would guess the folks in Wasilla, Alaska have a better bead on reality right now than those in the CNN echo chamber!
 
9 Responses to "More Poll Bad News For Obidenama! – Updated"