Sep 07 2008
Major Update: Wow – it may be the Gallup Daily Tracking Poll that Sabato apparently had seen and it is a stunner! From an 8 point lead less than a week ago Obidenama are now at a 3% deficit: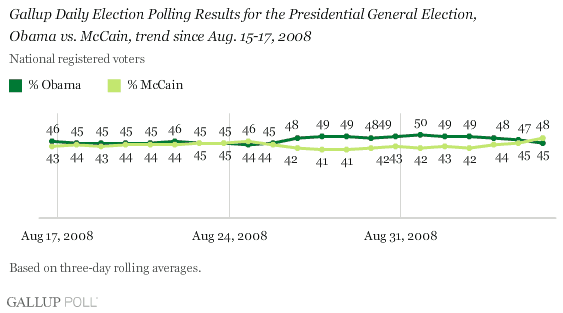 On key snippet:
McCain has outpolled Obama on both Friday and Saturday …
No word on how the women's vote is panning out, but I doubt it is very good. – end update
Larry Sabato was just on Fox (12:24 PM, 09_07_09) saying he has inside information that McCain/Palin will see a bigger bump coming out of the GOP convention than Obama, and at least one poll will be coming out showing McCain/Palin ahead by more than the margin of error (my guess this is the CBS/NY Times poll I posted on previously).
Update: Rasmussen has the race now down to a tie, with Obama still losing half his lead among the all important women's vote. More importantly, McCain garners more GOP and crossover Dem votes than Obama does on his side:
McCain earns the vote from 89% of Republicans while Obama is supported by 81% of Democrats. McCain also manages to attract 15% of Democrats while Obama gets 9% of the Republican vote. Voters not affiliated with either major party remain fairly evenly divided between the two men.
It won't take a lot of dem crossover or women moving to McCain/Palin to shift the electoral map in large leaps.
7 Responses to "2008 Election Poll News – McCain/Palin Lead In Polls Coming Soon! – Major Update!"