Sep 06 2008
At one point Obidenama had an 8 point lead over McCain in the Gallup Daily Tracking Poll, but now that lead is all but gone (2 points) and there are indications from Gallup that McCain-Palin may come out of the back-to-back convention weeks with a significant lead on Obidenama: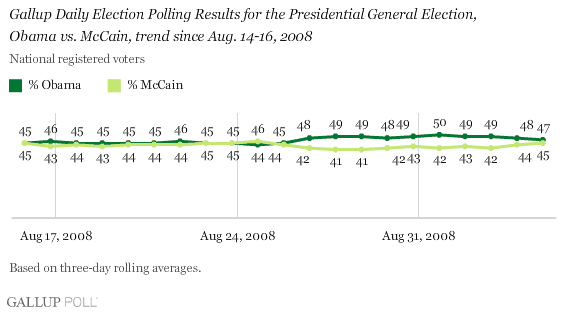 The interviewing for today's report partially reflects public opinion following the highlights of the Republican National Convention on Wednesday and Thursday nights when McCain and his running mate, Alaska Gov. Sarah Palin, made their acceptance speeches. This includes a strong night for McCain in Friday's interviewing, the first full night of interviewing following his acceptance speech.

The first Gallup Poll Daily tracking report based on interviewing conducted entirely after McCain's speech (from Friday through Sunday) will be published on Monday. The test for McCain will be whether he can do more than return the race to the absolute tie seen at the beginning of the convention period, and actually lead Obama by a significant margin for the first time since late April/early May. 
Rasmussen today shows a slight uptick today for Obama, but the internals show the potential for a devastating shift in the woman vote:
As McCain has begun to chip away as Obama's convention bounce, most of his gains have come among women voters. Obama still leads 51% to 44% among women, but that seven-point edge is just half the fourteen point lead he enjoyed last Tuesday. McCain leads by three among men, little changed in recent days.
Obama cannot hope to even come close if he begins to lose the women's vote to McCain-Palin. The party which was supposed to crown Hillary Clinton finds itself looking in from the outside as Governor Palin looks to be the first woman VP (and later President) in our nation's history. This is all helped along by a panicked liberal media which is turning Palin into America's heroine through character assassination and martyrdom.
I hope, for our country's sake and the sake of my 3 daughters, that come Monday the polls do show the Palin effect crippling the Obama PR show.
9 Responses to "Obama Polls Still Crashing"