Aug 31 2008
Update: Gallup has come out with its daily tracking poll update and, sure enough, the Obidenama ticket showed a 25% drop (same as Rasmussen – see below) since its peak two days ago (follow link for larger image):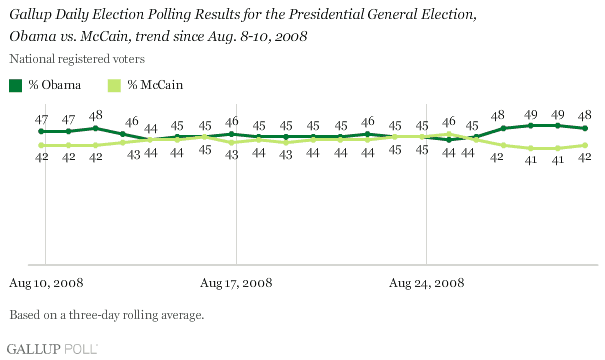 Gallup hints that the Palin selection has not only neutralized some of the Dem Convention bounce, but may be reversing it somewhat:
Though down slightly from the eight-point lead Obama held mid-convention, this represents a clear improvement for the Democratic candidate's positioning in the campaign compared to a week ago when the race was about tied. The last Gallup update conducted entirely before Obama's convention and vice presidential announcement was based on interviews conducted Aug. 20-22, and showed Obama up by two points, 46% to 44%.
I predicted a 3-5% bounce for Obama and that is what he will get (4%). But recall this is a 3 day national holiday, so the polling on McCain-Palin may be only showing a fraction of what is to come, and that may be a big shocker for Dems:
As the recent trend shows, Obama did not gain any additional support in the poll since his generally well-reviewed acceptance speech on Thursday night. However, the Aug. 28-30 field period also includes two days of interviewing since the Friday morning announcement by McCain that he has chosen Alaska Gov. Sarah Palin to join him on the Republican ticket. Thus, it is unclear whether the full positive impact on national voters of the Democratic convention or Obama's speech would have been greater if not for the Palin announcement.
Gallup is clearly hinting the Palin announcement reversed a trend that was building prior to the announcement. There were predictions the 8 point bounce for Obidenama would go to 12 points, until Palin showed up. As Gallup notes, tomorrow is the first complete post convention/Palin poll – but being a 3 day weekend it really will still only be a shadow of what may be happening out there in the electorate. – end update
I mentioned yesterday that we have a few days to go before the Daily Tracking Polls show the Palin effect, but that warning seems to have been missed by the math-challenged liberal media – who claim these polls to date have shown nothing on Palin:
The first national polls on John McCain's pick of Sarah Palin yesterday came out today from Rasmussen and Gallup — and contrary to what the GOP probably hoped, she scored less well with women than men. 
The Obama Convention bounce took 3 days to show up, and these 'experts' should have remembered that. Actually, the Gallup poll (as I noted in the previous post) did detect a big drop off for Obama in the last day of there 3 day rolling average. Â But hey, don't let facts get in the way!
Last night Zogby confirmed what we saw in both Rassmussen and Gallup – the Obama convention bounce has been 'aborted' by the Palin selection. He has McCain up two points, starting his VP-Convention bounce. And today Rasmussen shows the initial indications of Obama sliding back has he not only shows a 1 point drop for Obama (out of a 4 point lead), but the internals are showing a shift that will send panic through the left:
There have been significant changes in perception of John McCain in the two days of polling since he named Alaska Governor Sarah Palin as his running mate. Since then, 49% of Republicans voice a Very Favorable opinion of McCain. That's up six percentage points from 43% just before the announcement. Also, 64% of unaffiliated voters now give positive reviews to McCain, up ten points since naming his running mate.
Emphasis mine. With both candidates taking large majorities of their parties a 6 percent leap is quite big. And with 10% shift from the independents – who select the winners – is also huge. The big test is Gallup later today and looking in tomorrow, as the Obama Convention impacts recede and we begin to see the impact of Palin and the GOP Convention.
6 Responses to "Liberals Jump On Early Polls, Illustrating Why Math Skills Are Important – Updated"