Aug 28 2008
Gallup has detected a mini-bounce for Obama in their daily tracking poll (follow link for larger image):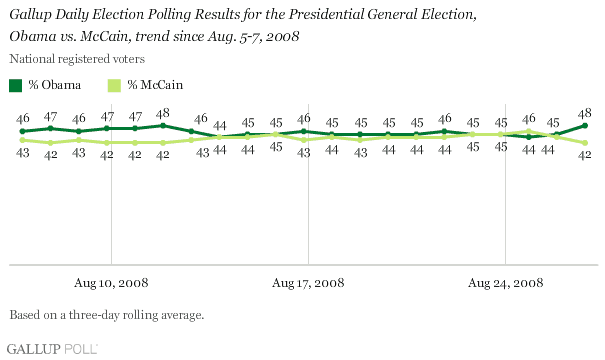 As Gallup notes the question is how long this will last, given the McCain news cycle begins tomorrow (and maybe even this evening with word leaking out on his VP selection). Obama got a 9 point bounce from his Europe tour which only lasted a few days, so there is no guarantee this will last – but it could. Â It is a very historic and positive moment for America and African Americans.
But I would note that Rasmussen as yet to see a move in his polling numbers yet and is still showing a tie. Depending on how bold McCain's VP is, there could be a rapid deflation in Obama's numbers before the convention bounce stabilizes. I also want to note Obama is still struggling to capture Hillary supporters in key states like WVA.
Anyway, we have to watch this gel for a week or more before any final analyses can be done on the impact. 
One Response to "Obama Mini-Bounce Forming"