Aug 27 2008
Two days down and Obama keeps slipping in the polls. Â Now Rasmussen as McCain up one point as well. I fail to see how the Democrat Convention can be salvaged. If this continues I am wondering when the reverse coat tails will start to come into play and start destroying the Dems plans for expanding their Congressional majorities.
Major Update: Â Here's a no brainer – conservative Dems are peeling away from Obama which is why he is losing ground in the polls (follow link for larger image):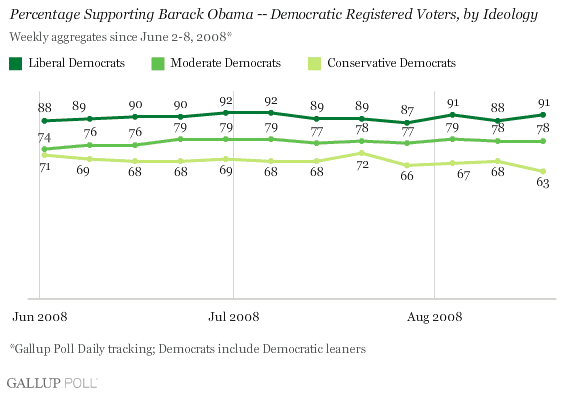 I predicted a while ago that Obama would never win the election because he would either lose the moderate middle or liberal base. Here is what I said on june 29th:
There is no stable policy configuration Obama can put together to win. No matter what he does he causes upheaval and loses support. Â Either he appeases the far left, sending moderates to McCain, or he appeases the moderates sending the far left into a tirade, ending their support and sending moderates to McCain where they will feel more welcomed.
So far the moderates have not peeled off, but my guess is they will since many of them are the disaffected Hillary supporters. Obama cannot knit together a coalition – it is impossible. And the polls are showing how impossible it is. 
5 Responses to "Obama's Slide In Polls Continue – Updated"