Aug 25 2008
I predicted Obama would be behind in the polls when the Democrat Convention began, but it turns out he will only be tied with McCain in some key polls. The Gallup Daily Tracking Poll yesterday had the presidential race a tie: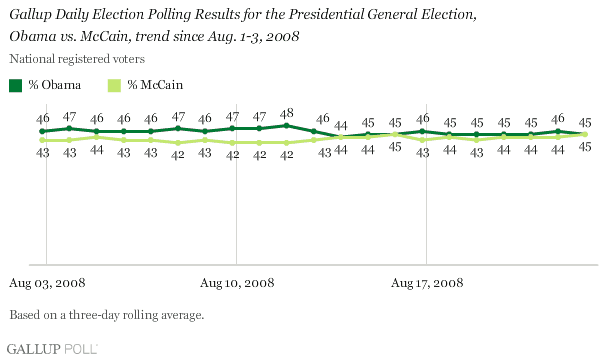 CNN also has it a dead heat. The other polls at RCP show statistical ties.
Update: I meant to note how badly Obama has slipped over the last month in the CNN poll, because the trend line is more important than the actual numbers right now:
"This looks like a step backward for Obama, who had a 51 to 44 percent advantage last month," says CNN Polling Director Keating Holland.
Losing a 7 point lead is a big problem for Obama, and something we have seen in all the polls. It seems to me Obama clearly panicked with the poll drop and tapped Biden in an effort to shore up his sagging national security image. I doubt it will work since we all vote on the Presidential candidates, not there unlikely replacements. – end update
I seriously doubt going to the dusty old-white-guy bin in the Senate for a VP, especially Biden, will turn these polls around. But we will probably not know since there is good chance the convention gives Team Obidenama a poll bounce. Unless of course we see what we saw with the last Senate duo in 2004 – no bounce at all.
One day the parties will learn the Senate is not the best place to select their candidates. I think McCain, being the maverick he is, was the exception. 
It will be interesting to watch the polls this week. Â Heaven knows I won't watch back-to-back political speeches in an infomertial format for a week solid!
Comments Off on Obidenama Limp Into Convention Week