Aug 01 2008
On Monday, when Obama was 9 points ahead of Obama in the Gallup Tracking Poll, I predicted that Obama's world tour was such a disaster his lead would not survive the week. Here is what I said:
So I am going to predict we see the same effect, delayed a bit in the Gallup Poll this week. The now impressive 9 point lead will drop to 3-4 points before Friday. Treat this prediction as an experiment to prove a hypothesis regarding the relative sensitivity of these two polls, it's all for fun.
Obama overachieved even my then radical prediction. Today he is now in a tie with McCain in the Gallup Daily Tracking Poll (follow link for larger image):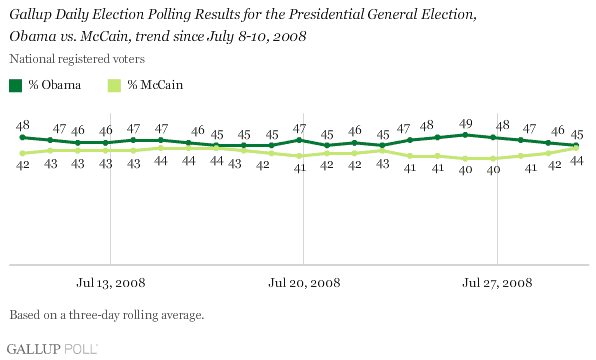 A 9 point loss in one week indicates this is by no means the end of his fall in support. It should only deepen in the coming weeks unless something major happens to change the dynamics. If the momentum is still moving and not flattening, then Obama could easily walk into the Democrat Convention well behind in the polls.
11 Responses to "AJStrata Poll Prediction Comes True"