May 20 2008
As far as the liberal and political elite are concerned Hillary Clinton's race for the White House is over. Â But today will bring the people's voice into the debate – the only voice that counts. Â According to Real Clear Politics Clinton is heading for another smashing upset in KY today. Â It seems the Democratic base is not rallying behind Obama quite yet!
The place to watch is Oregan, where Obama had a huge crowd show up in Portland.  If he only wins be a small margin after that kind of showing, it will be legitimate to ask who the voters in the Democratic party really support?  And if Clinton takes back the lead in the popular vote again she has a reason to go to Denver and fight Obama head on.  
In fact, one look at the Gallup Daily Tracking numbers and an interesting phenomena is happening (one I predicted might happen). As Obama takes a large lead over Clinton (primarily because of the NY and CA liberal media markets are saturating those huge liberal population centers with the fate compli that Obama is the primary winner), he is not gaining any ground on McCain. Check out the two charts (click images for full size):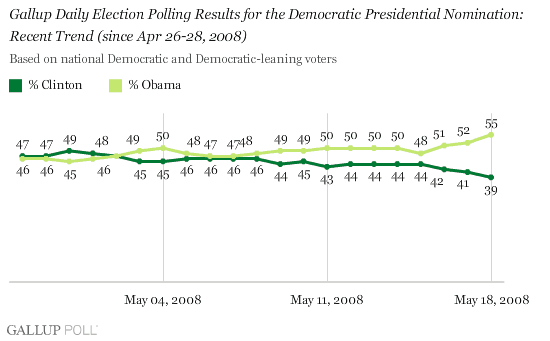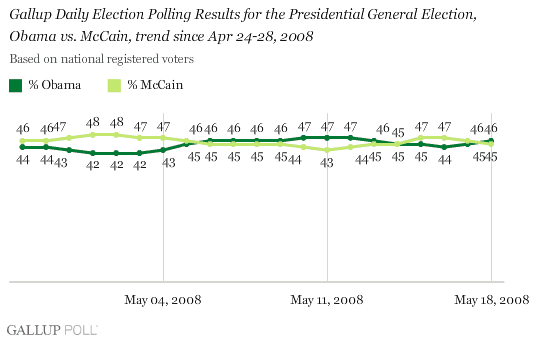 So, what is going on here? Well it could be Democrat voters select McCain's opponent no matter which candidate they support. That way the same number of voters would oppose McCain against 'the democrat'. But that doesn't seem to make sense with the numbers showing large defections to McCain if either Democrat candidate loses. I would expect to see a boost for Obama as he became the standard bearer. But it is not showing up. One cannot help but assume the electorate is just not as enamored with Obama as the liberal media seems to be.
Hillary might surprise a lot of people today.
13 Responses to "Hillary Builds Momentum"