Apr 23 2008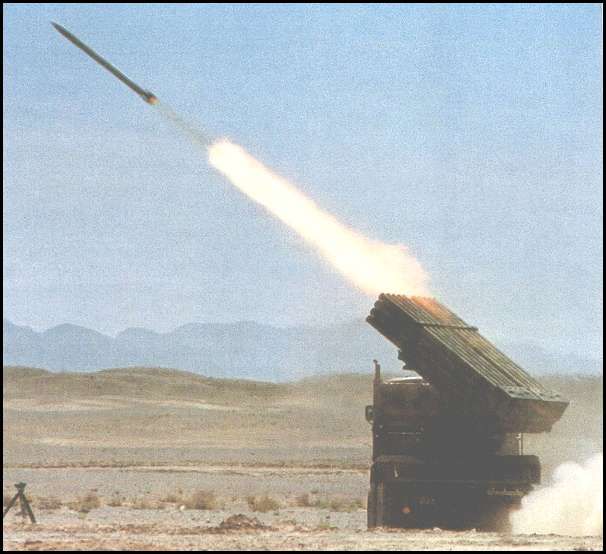 Those who are still in denial about the role Iran is playing in creating instability in Iraq through a proxy war fronted by Sadr's Mahdi Army will have to face the cold hard facts that potent Iranian weapons are showing up in the hands of the Mahdi Army:
Coalition forces have reported Iran may be supplying medium-range rockets to Shi'ite militias in Iraq.

On April 19, Iraqi troops, as part of Operation Charge of the Knights, discovered a cache of munitions that included a 240 mm high-explosive warhead in Basra.

"The success in finding these large caches was also due in part by numerous tips from concerned local Iraqis," Lt. Col. Neil Harper, a spokesman for Multi-National Corps-Iraq, said.

The warhead, which contained Iranian markings, was said to be the most advanced weapon found in the possession of the Mahdi Army.

Officials said the warhead appeared to be part of the Fajr-5 medium-range rocket produced by Iran and transferred to Hizbullah in 2006. So far, they said, Shi'ite militias were not believed to have fired a 240 mm rocket in Iraq.
This is not a trivial increase in fire power, and illustrates the threat to the Iraq government. I predicted in previous posts that the Iranian support of the crack down on Sadr's Mahdi Army was probably a preemptive step to put some distance and deniability between Iran and the Mahdi Rebels who have been attacking the Iraqi Government offices inside the Green Zone. It is not a surprise that, as forces sweep up the Mahdi forces, they are discovering these connections to Iran.
In a related BBC report we see that Basra is rapidly coming under control of the Iraqi government, and the people of Basra are celebrating the change in control:
The Iraqi army commander in Basra has said his forces are in "almost complete control" of the port city.

…

The Iraqi campaign in Basra got off to a shaky start, but appears to be gaining ground with increased support from coalition forces, says the BBC's Patrick Howse in Baghdad.

The most influential of the militias in Basra is the Mehdi Army. There are also the Badr Brigades – linked to the political party, the Supreme Islamic Council of Iraq.

There are signs that the militias' hold on the city is weakening, says our correspondent.

There are reports of women dressing less conservatively, couples walking arm-in-arm and live music being played at weddings – all things that would have been impossible a few weeks ago, adds our correspondent.
Sadr looks to have lost control of the Mahdi Army and fractures are developing within the Sadrist camp. How this plays out is still unknown, but I will repeat my statement that it appears Sadr is heading towards becoming the Iraqi version of Benedict Arnold, especially if Persian puppet strings are discovered running to his Arab Shiite group. Working against his fellow Arabs for Persian masters will cause him to lose all support in Iraq quite rapidly.
2 Responses to "Iranian Medium Range Rockets Discovered In Mahdi Army Cache"