Mar 16 2008
Lots Of Updates Below
America seems to be circling in on al-Qaeda's leaders – and may have a bull's eye on them right now. When I saw the US announce a major Bin Laden aid had been captured I wondered if this was meant to spook the AQ leaders and get them to move and distinguish themselves. I researched the name and it seemed this guy had been in custody for a year or more and people knew it (he has a wikipedia page). So how could this be news? Maybe it was never meant to be.
It seems the US has a bead on AQ's key leaders because we are sending missiles and drones into Pakistan with an ever increasing cadence. Just check out the news today:
t least 20 people were killed and several others injured on Sunday in a missile strike on a home in Pakistan's restive South Waziristan tribal area where the military is battling the local Taliban.

At least seven missiles hit the residential compound at Shahnawaz Kot village, located about two kilometres from Wana, the headquarters of South Waziristan.

State-run PTV said 20 people were killed in the attack. Some of the dead were believed to be foreign nationals. Reports said some bodies were still trapped within the rubble and the death toll could rise.

Local residents said the missiles might have been fired from neighbouring Afghanistan or from a pilotless drone. They also said they had heard an aircraft flying over the area when the missile strike occurred.

US-led forces in Afghanistan launched at least two missile strikes on Pakistan's northwestern tribal areas with pilotless drones last month, including an attack that killed top Al Qaida commander Abu Laith al Libi on February 4.
Clearly the additional Special Forces in Pakistan are there to help find and 'paint' (figuratively speaking) high value targets. And it helps our forces find or validate these targets if we can do something and see who responds. It is just like the scene in I Robot where Will Smith's character makes Sonny (the robot) move and distinguish himself from the other 1,000 robots he is hiding amongst: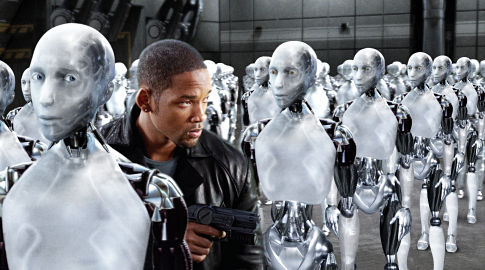 In fact, each time we target a site you can bet there is something that happens in one or more of all the other sites we are now watching that will give us an indication of where to go next. Bin Laden and his leaders cannot sit still as we circle in. So as we circle in they make moves which, if we are in a position to see them, will indicate to us this other site looks promising.
And once this game is begun and we have the boundaries controlled (which we do with Pak forces around the south and US NATO forces along the Afghan and norther boundaries) there is little chance AQ's leaders can escape this trap. Sit still and they may just get picked off incidentally. Move and they draw attention to them and hasten their demise.
Are we heading towards checkmate in the game that was started on 9-11 (and well before)? Maybe so.
Update: More here – definitely looks like a gathering of high valued, foreign targets:
Foreigners linked with Taliban and Al-Qaeda militants were believed to be staying at the compound in Doog village, the residents said.

"Militants have cordoned the blast site and are taking out bodies from the rubble," one local tribesman told AFP.

"The missile has left only part of a boundary wall intact and turned the compound into a pile of debris," he said.
That's a lot fire power – which means there was a seriously high valued target or targets involved.
Update: Matt Dupreee over at the Long War Journal has a good update on the targets of the attack:
A devastating explosion destroyed the fortress-like home of a tribal elder in South Waziristan on Sunday, killing up to 20 people and leaving five others injured today, state-run Pakistan Television announced. Foreign fighters and Taliban insurgents are believed to be among the dead.

…

The blast obliterated the fortified compound owned by Pakistani tribal elder, Noorullah Wazir, who lived in the village of Dhook Pir Bagh some five kilometers from Wana, the headquarters of South Waziristan. Pakistani Taliban have cordoned off the area and began excavating bodies from the rubble, AFP reported.

Another nearby house, which Uzbek and Arab fighters recently stayed at, was also destroyed in a separate round of missile fire, Pakistani officials told The Associated Press. The second house was owned by Safraz Khan, a tribesman sympathetic to the Taliban. Eight to 10 fighters were killed in this attack.
I have seen reports of at least one Arab killed in the attack. Hopefully it is an Arab named Osama Bin Laden. More here:
A US aircraft fired missiles at a house in Wana, the headquarters of restive South Waziristan Agency, on Sunday killing at least 22 tribesmen, which foreign news services terms as militants and wounding nine others, local residents and an intelligence official said.

A US Central Command spokesman said the missiles were not fired by any military aircraft. This leaves open the possibility it could have been a pilotless drone aircraft which the CIA has used in Pakistan.

…

Three foreigners, an Arab and two Turkmen, were among those killed, according to the intelligence official. About seven guided missiles coupled with mortar attacks were fired from unspecified direction, destroying several mud-made compounds in the vicinity of Wana.
The specificity of the three deaths tells me these people were known to be in the compound and probably were the prime targets. Clearly this was a large compound with lots of targets given the ordinance used. The reporting continues to play variations on the same theme – the place was a haven foreign al-Qaeda fighters and leaders:
Local residents said that the home that was struck belonged to a man named Noorullah Wazir, whom they described as a supporter of the Taliban. Over the last year, villagers said, Wazir had allowed into his house several Arab visitors who were believed to have ties to militants in the area.
It is a haven no more. And I am sure the havens that do exist in the tribal areas of Pakistan won't exist for very much longer.
Update: Reader CJ_TheSpook notes that the 101st Airborne is now in the region along with ever increasing numbers of Marines. Her husband is there (and our thanks go out to him and his family for all they are doing for the rest of us) and it seems the noose is tightening, though details will and should be kept secret. Add in the extra Special Forces in Pakistan from the US and UK and we have all the indications of a big effort to get al-Qaeda's leadership.
Some of the latest reporting from the local news media implies the number of Arabs killed was quite high:
Local journalist Sailab Mehsud said 20 people were killed and another five wounded in the missile attack. He said all those who died were Arabs and Turkmen, who had gathered at the house when the attack occurred.

…

An elder, who asked not to be named, told Daily Times that the house of Noorullah, where the Arabs were holding a meeting, was situated about half a kilometre from the station of Taliban commander Maulvi Nazir in South Waziristan.

"Nazir remained unhurt, but the attack left at least 15 Arabs dead," added the elder who said he heard three huge blasts that jolted the area around the site of the attack.

…

Two Pakistani intelligence officials in the area, both speaking on condition of anonymity because of the nature of their work, told the Associated Press that another house nearby was also destroyed. Arab and Uzbek militants had been staying in the house, which belongs to a tribesman named Safraz Khan, the news agency quoted them as saying. Eight to ten people were killed in the second house, the intelligence officials said.
The amount of ordinance applied tells me this was a high value suite of targets and we did not want anyone escaping the death blow.
12 Responses to "New American Attack On al-Qaeda In Pakistan – Circling In On Bin Laden"