Oct 22 2016
This is the fifth day I have looked at the general election polls for POTUS at RCP. My previous posts were:
This is basically an uncomplicated assessment of the general election taken each day by averaging the % of the general election polls for each candidate. It is a daily poll-of-polls assessment, and it has been interesting because this data appears to suggest a very different race than the headlines.
For the 5th day the race looks to be a statistical tie or toss up, and today we only have 3 polls (click to enlarge):

HRC averaging 42%
Trump averaging 42.67%
Difference 0.67% (Trump)
However, if we look at the trend over these past 5 days we actually can detect a trend towards Trump. He is slowly rising while Hillary has been trending downward or, at best, flat.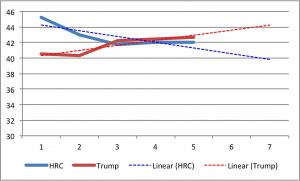 Trumps differential has moved over this period from -4.70% behind Clinton to +0.67% Ahead.  He has polled slightly ahead of her for the last three days (basically since the last debate)
If this holds it is very bad for Clinton and the rest of the Political Industrial Complex. This could be why the Clinton-backing "news" media continues to abandon all objectivity and go all Sleaze Guns on Trump.
2 Responses to "10_22_16 General Election Polls: Toss Up, Trend Continues For Trump"