Oct 21 2016
Another day closer to the election, another quick look at the General Election polls and where they may be heading.  As with the prior three days, we are looking at the vote totals for Clinton and Trump in today's polls (10/21/16):

HRC averaging 42%
Trump averaging 42.5%
Difference 0.5% (Trump)
Today there is no change between the two candidates from yesterday (Trump up 0.5%). Both candidates moved up 0.25% in their averages from yesterday.  This actually helped Hillary in terms of the trend lines, leveling out what was a deep dive.  But Trump still points upward
The first graph is for today, and the second graph shows yesterday's trend lines overlaid on today's chart. Clinton's trend line is not diving as fast, but Trump's is still looking to rise more. Basically, it is a tie with a hint of a trend for Trump.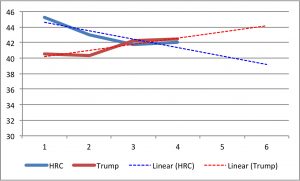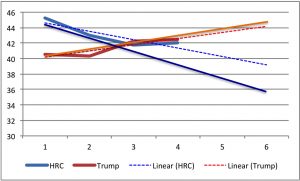 4 Responses to "10_21_16 General Election Polls: Tied, With Small Trend For Trump"