Oct 20 2016
I thought it might be interesting to look at just the recent polls until the election, since where we are heading over the next three weeks is more important than were we have been over the last few months.
So here is the midday snapshot of the RCP polls for today, October 20th, 2016:

We have 4 general election polls out with some fascinating numbers:
HRC averaging 41.75%
Trump averaging 42.25%
Difference 0.5% (Trump)
As a reminder, yesterday at the end of the day we had 7 general election polls, with the following
HRC averaging 43.0%
Trump averaging 40.3%
Difference 2.7% (Hillary)
And the day before that we had 6 general election polls, with the following
HRC averaging 45.2%
Trump averaging 40.5%
Difference 4.7% (Hillary)
So over three days Hillary's lead has decayed from +4.75 to +2.7% to -0.5%.
If we plot these 3 days, and then lay out a trend line three days into the future (dashed lines), then we get this: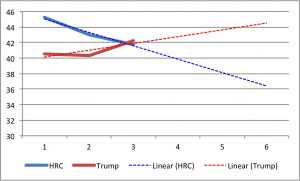 These trend lines will be used as a test to determine if the trends are actual.
Stay tuned. If more General Election polls come out I will update the numbers. Will be back tomorrow to see where we might be headed!
Methodology: Simple. Sum up Hillary's vote % in each poll, divide by the number of polls.  Rinse and repeat for Trump.
2 Responses to "Today's General Election Polls Show Toss Up, Trending Trump"