Jun 23 2016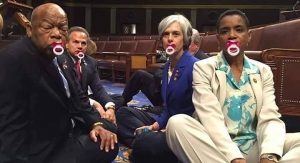 The Congressional Democrats have done America a great favor this week.  By staging their "Pout In", these lovely little Congress-Critters have forced congress to shut down early for the July 4th break:
The revolt in the House of Representatives entered a second day Thursday as protesting Democrats continued to demand votes on gun control measures opposed by Republicans.

While two dozen or so Democratic lawmakers camped out in the well of the House chamber, most of the GOP reps were long gone after Speaker Paul Ryan formally adjourned the body until July 5 during a raucous overnight session.
While this Democrat "Pout In" is just another sign of why Big Government is a Big Headache over a Non-Issue (everyone knows the legislation being proposed would not have avoided the Orlando Massacre), these clowns still deserve a big shout out.
Thank you Democrats, for halting all Congressional Tom-Foolery for the next couple of weeks.  Congress is always at its best when it is not in session!
Comments Off on Congressional Democrats Stage Major Pout-In