Apr 28 2013
Well, well, well.  It seems our petulant President is realizing the trap he set for himself with sequestration, and is now becoming a pissy, petulant President. In this week's POTUS address to the nation, we see a bit of strain and arrogance coming through as Obama threatens pain on Americans if they don't do as he says:
In his weekly address, Pres. Obama threatened Americans with more sequester "pain" if they don't convince Congress to pass his budget.

…

"This week, the sequester hurt travelers, who were stuck for hours in airports and on planes, and rightly frustrated by it."

And, there's more pain on the horizon, Obama warned: "These cuts are scheduled to keep falling across other parts of the government that provide vital services for the American people."
The fact is Americans KNOW it is the President's team that decides whether these minor sequestration cuts in the GROWTH of government will be painful or made to the fat that is government waste.  In my last post (Sequestration Forever!) our reader Frogg1 noted this bit of inconvenient truth when it comes to the FAA cuts:
Yep, Obama proposed less funding than when the FAA came out of sequestration. How does that work? The House and Senate put into the FAA more than Obama requested. Then when the cuts hit, they were still more than the President requested. So the furloughs were an attempt at extortion – plain and simple
The pain on travelers was all manufactured by Team Obama. Which, as I noted before, should be illegal:
What happened in 1969 – and this week at ICE – is a clear dereliction of duty and an abuse of power. No person should be able to hold America hostage like this. Not even (and maybe especially) the POTUS. There are CLEARLY billions of dollars of waste, fraud and abuse to trim before any government official needs to pull needed services. As a previous post of mine noted, you cannot blow $100,000 of dollars on dog training lessons, or billions of dollars on Green boondoggles, and then claim there is no money to protect the nation, its resources and its people.

So here is the answer and what the GOP needs to push through Congress this week (and I dare the Dems to fight it).

Make it illegal to pull services, support, etc from mission critical activities as long as there are non-mission critical funds available. This would make it impossible to hold us hostage or threaten us before, say, salaries are cut, or regulations are cut, or new programs on the drawing board are cut, etc.

Make it a felony for anyone to play games like this – and we will see an end to this kind of dumb melodrama! Let's make political melodrama ILLEGAL!
Yes, it is well past time to outlaw Drama Queens in DC.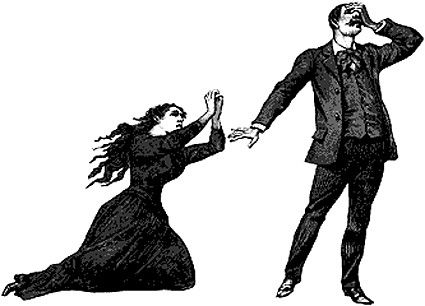 4 Responses to "Obama Tries Extortion On Voters: Do As I Say Or More Suffering To Come!"