Nov 05 2012
Major Update: Romney's internal polls also confirm my predictions:
Mitt Romney is ahead by a single percentage point in Ohio, according to internal polling data provided to MailOnline by a Republican party source.

Internal campaign polling completed last night by campaign pollster Neil Newhouse has Romney three points up in New Hampshire, two points up in Iowa and dead level in Wisconsin and – most startlingly – Pennsylvania.

If the Romney campaign's internal numbers are correct – and nearly all independent pollsters have come up with a picture much more favourable for Obama – then the former Massachusetts governor will almost certainly be elected 45th U.S. President.
I see no value in the Romney campaign releasing this data except to get a big "We Told You So" come Wednesday. More updates at the end of post. – end update
Never have so few, waited so long, for so little. But after seeing this I am prepared to make my predictions for tomorrow's presidential election results [click to enlarge]: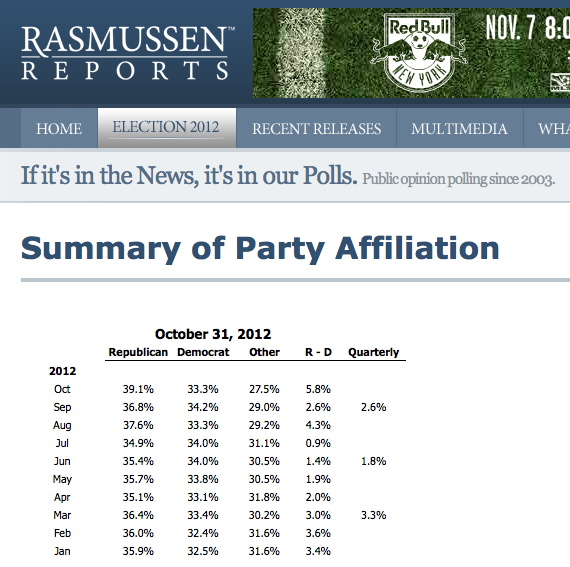 R+6!
If Scott Rasmussen is even close in this result, tomorrow is going to be a really bad day for Democrats (and he has been very good at this before). This is a historical level for GOP partisan ID, and is much higher than seen in the 2010 blow out. 2008 was D+7, so this would mean a 13% swing away from the left in 2012.
As I said before, the 2010 insurgent voting bloc is NOT responding to pollsters and will send a clear, unfiltered message to the Political Industrial Complex tomorrow. We have never seen an R+6 election as far as I know, so this should be something else.
So here are my swing state predictions, based on what is a more likely an R+6 nation (not some D+8, D+9 or D+11 nonsense):
Governor Romney will win:
Florida
North Carolina
Virginia
Colorado
New Hampshire
Ohio
Wisconsin
Iowa
Pennsylvania
Nevada
President Obama will win:
Therefore, the EC count will be: 321 Romney, 217 Obama [click to enlarge]
You too can have fun creating your own electoral map at RCP, it's a blast!
Update: Jim Geraghty has some confirming data that supports many of my picks.
Update: Ed Morrissey also provides a slew of supporting data.
13 Responses to "AJStrata's Election Prediction"