Jun 22 2012
Updates Below (Including A Smoking Gun)

I have been reviewing the audio, written statements, video (here) and an earlier composite of events to detect inconsistencies for George Zimmerman – with sadly a lot of success (sadly for Zimmerman of course).  And I have to admit I am totally surprised to see one of my earliest suspicions pan out (which I did not post, but started to many times). Reader Mata Harley and others have also been hard at work assessing George Zimmerman's shifting story line and evidence. But let me start with that early suspicion that showed up to my surprise.
As everyone knows I felt like I knew what kind of person Zimmerman was, since he replicated other similar characters from my life time. When I heard the first rough details of the fight, I pretty much dismissed Zimmerman's statements as nothing more than a hastily concocted alibi mixed in with some actual facts (some twisted).  One thing I was not buying face value was the ability to pull a gun while on your back on the ground in a fight.  That is nearly impossible to do without at least one missed shot going off.
It is a simple matter of physics and dimensions of the human body.  Just like you cannot stick your elbow in your ear, you cannot reach your waist band with your hand unless you spread your elbows out so they extend out like wings (<O>) or you pull them back so the elbows extend behind your back. On the ground you cannot pull your elbows back beyond your back. So the only option is to spread your wings (see image below for example).
You can also cross an arm over your stomach to reach your waistband on the opposite side, but this makes it hard to pull a weapon from a holster – and we will discover this is impossible from where Zimmerman wears his gun.
These thoughts struck me early on, but since I had no idea of what transpired and there was one way to gain access to a holster on the hip with wings out (so to speak), I decided not to post such thin gruel.
But along comes George Zimmerman, reenacting the events and he sticks his foot into his mouth as he tries to gild is self defense claim. Here is a snap from the reenactment video (time 2:39) showing Zimmerman reenacting the moment he pulls the gun.  He claims Martin has reached for his gun – now that it has become exposed – and Zimmerman has pinned Martin's arm with his right arm – while he pulls the gun!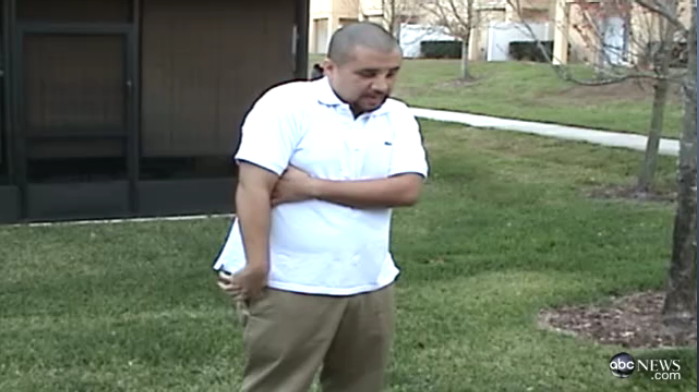 To prove how impossible this really is, look where Zimmerman's hand can reach while pinning his other arm (representing Martin's arm).  He cannot reach up to his waist band with his right hand, nor can he really draw a gun up and out of a holster. Now look where Zimmerman puts his hand just a few seconds earlier when he indicates where he wears his holster (time 2:22)!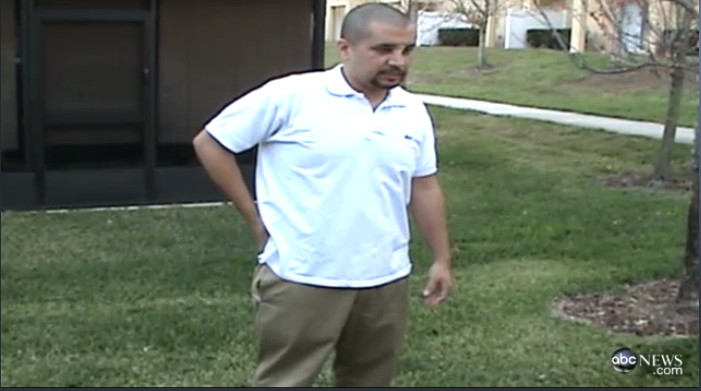 A few items to point out here. First is Zimmerman's holster is worn around the back – which means Martin could not see it if he was sitting on top of Zimmerman with Zimmerman's back on the ground. Second, there is no way to pin the arm and pull the gun as can be seen in this second position where Zimmerman mimics grabbing his holster. Look where is elbow is. This is all fabrication because it is all physically impossible (line of sight to the holster, elbow length and arm motion).
Trust me, I was as surprised as anyone to see this prediction come true. It gives me even more confidence my original suspicions were spot on.
Now back to Mata Harley's comments on timelines. One thing I agree strongly with her on his how Zimmerman changed the events leading up to the incident:
GZ then says he followed TM in his SUV to the Twin Trees Lane spot where he last parked… the time elapsed from the "something in his waistband/checking me out" comment while parked at the clubhouse to arrival at the last place parked is 43 seconds, if you use the next pertinent comment… below. Quite reasonable for a slow moving car to round the corner from the clubhouse to the site where the SUV last parked.

The time when he stops there is now 2:08 seconds into the phone call.

While at that spot, GZ's reenactment definitively states he observed Martin run down cut thru and turn right. Then he says that he doubled back, came towards his car and circled him. But of course, while on the phone with the dispatcher, he doesn't say any of this. Why? In short, it never happened.
Actually, when he gives his statement the night of the incident, the point of circling seems to be some place totally different, back near the clubhouse (listen here at time 11:00). Update: Upon listening many times again it does sound like Zimmerman claims the 'cicrling'  took place near the cut through and not back at the clubhouse. – end update
Why if you are on the phone with the police and now the 'suspect' is within spitting distance don't you tell the police? At least you can update the description! Or you could roll your window down and ask him what he was doing. I agree with Mata here – this is a really bad 'hole' for GZ, who cannot afford any discrepancies given he took an innocent boy's life.
Finally, there is a huge discrepancy in Zimmerman's account concerning where he said the initial 'attack' took place and where it ended. Here is the problem in a nut shell (click to enlarge):
In the reenactment video you can see Zimmerman trying to make up the distance between where he is punched  at the top of the sidewalk T (and in original statements where he just falls down and is pounced on by Trayvon) and where the Martin's body ends up. You can see how quickly he tries to add something new – about pushing off Martin and pulling away. Something COMPLETELY at odds with his signed statement and audio statements the night he was detained.
Update: Another glaring problem with Zimmerman's statements surfaced between the audio tape and the video reenactment. At 13:32 in the audio statement Zimmerman states he was returning back from the other side of the cut through (see image above) when Trayvon jumped out at him from the bushes. It doesn't take a rocket scientist to note that there are no bushes big enough to hide behind that are close to the walk. Here is another snap of the video reenactment with the detective in the image standing where Zimmerman says Martin came from. Clearly there are no bushes.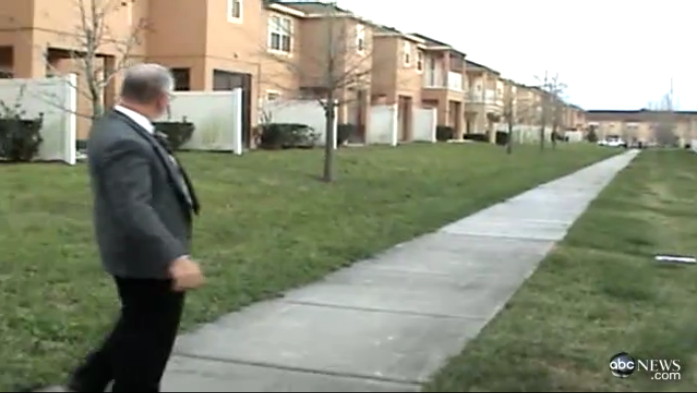 It seems more likely that what happened is Zimmerman, thinking he had an outsider in the neighborhood, had run all the way to the other street assuming Martin would head to the back entrance. But Martin instead had headed towards his home, between the buildings. He mentioned this to Dee Dee on the phone. It is clear, as I proposed a while back, that Trayvon thought the coast had cleared and headed back up behind the buildings, only to have Zimmerman see him again, and follow him back towards his home.
Dee Dee's testimony is very damning here. There is enough consistency in locations, timing and sequence to confirm she was getting a real time report from Martin. This provides credibility to her statements. It is Zimmerman's inconsistencies which are becoming glaringly obvious.  He did not know Dee Dee was in on the event, so his statements are at odds to her and the dispatcher's recording at key points.  Which means these are points he is trying to adjust to his advantage somehow.
Update: Another inconsistency shows up between the audio and video versions. At 16;27 audio Zimmerman states that after he shot Trayvon, somehow Martin was down and he got up, holstered is weapon on climbed on Martin's back (where one witness finds him).  In the video reenactment Zimmerman claims he was on Martin, spreading his arms out with his gun in his hand.  Not a big difference, but it does indicate he probably is trying to fill in details in a fiction account on the fly instead of recalling actual events
Smoke Gun Update: On more glaring disconnect in the audio statement. When Zimmerman first says he did not know what street he parked on (which really is not a credible story given it is the main entrance street, and his street is off that one) he says he has to get out to find a street sign.  But then he makes a huge mistake and admits he is on the other side of the buildings ON HIS STREET!.  He then repeats later he went through the 'dog walk' (where he REGULARLY walks his dog) to find a street name???  It's his own damn street, and he knows it.
We now have proof he made up the reason why he got out of his car and followed Martin. He did NOT go to the other side of the buildings, to his own street, on a path he used regularly, to look at a street name. He lied.
Worse ye, at 21:11 of the audio tape he lets slip a detail. He says Martin was apparently upset he called the police. Now how would Martin know Zimmerman called the police? How much you want to bet the confrontation was longer and had a lot of exchanges, including Zimmerman telling Martin he called the police and his gun out trying to detain the boy?
He better be plea bargain right now.
BTW, full video here.– end update
I am sure there is more to come.  I add these additional crime scene views to help in the discussions (click to enlarge):
17 Responses to "Zimmerman's Incoherent Statements Destroying His Defense."