Dec 12 2011
I had to read this liberal's epiphany and laugh a sad laugh:
But today, the most important sentence isn't a report on something that just happened, but a fresh look at something that's been happening for the last three years. In particular, it's this sentence by the Financial Times' Ed Luce, who writes, "According to government statistics, if the same number of people were seeking work today as in 2007, the jobless rate would be 11 percent."
Welcome to the real world Ezra. For your information this has been reported ad naseum on my blog and others FOR MONTHS!:
From December 2011 on November Unemployment: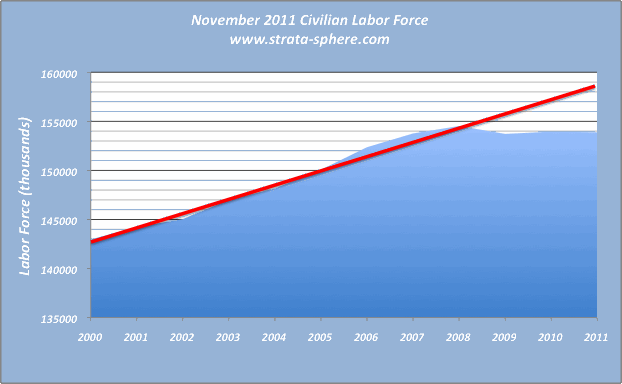 When you recompute the unemployment rate using the number of employed (140,580,000) out of  the real workforce of 158,500,000, you get a more accurate reflection of the job situation in America.

That actual unemployment rate is 11.3%
From September 2011 on the August unemployment:
The adjusted U3 unemployment for July, based on a nominal workforce size (the red line) was 10.7% – and rising.
From July 2011 on June unemployment:
That red line shows 2.5 million fewer workers in the work force. It also shows that if the work force was at its normal level, we would be at 10.7% unemployment in June – not 9.1%.
From June on July unemployment:
When you recompute the unemployment number (which is those working minus the total workforce pool) the actual, on the ground unemployment is at 10.5%.
From April on March unemployment:
If we recalculate the real unemployment against the nominal labor force (155.9 million verses the current 139.8 million) the real unemployment rate is a staggering 10.3%.
I mean … really? People are just now cluing in inside DC on this???
7 Responses to "Is America Awakening To The Real Jobs Picture (11% Unemployment)?"