Sep 01 2011
No surprise in the latest CNN poll numbers on the President's handling of the economy:
Only a third of all Americans approve of how President Barack Obama is handling the economy, according to a new national survey. And with a CNN/ORC International Poll also indicating that more than three-quarters of the public say the country is in bad shape right now, there's little wonder why the president is getting such low marks.
65% disapprove of the President's job on the economy, and it looks like under 25% are the only ones happy with where the country is at.
That is because there is no sign of economic growth out there in the workforce. As we have seen for months on end the liberals' lame stimulus bill did nothing but pile up massive debt on our children and grandchildren. It did not create economic growth.
The unemployment level appears flat only because the workforce is shrinking as millions of able Americans give up hope of a real career style job. For months (here, here, here and here) I have shown how the stable U3 unemployment number is a sad fiction, that when you adjust for where the workforce should be right now based on population and historic trends, the unemployment is in the 10.5+% range. Here is the July graph as an example: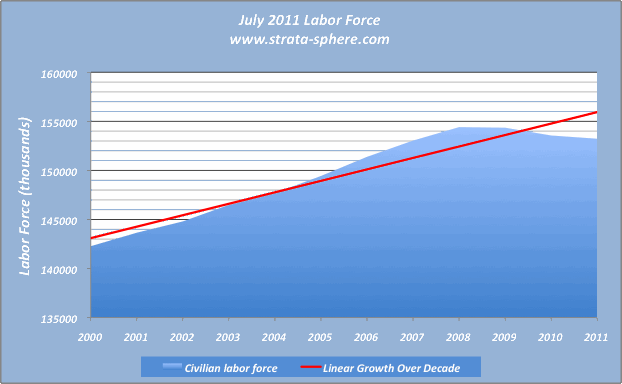 Click to enlarge. The adjusted U3 unemployment for July, based on a nominal workforce size (the red line) was 10.7% – and rising. We see the same basic pattern going back for months now (follow the links above, stretching back to February 2011). Which means this is not an aberration for one month but a harsh reality that has been dogging us all year long.
This week's unemployment report is one more in a seemingly endless chain of weekly reports showing a stagnant, barely above-water economy. In fact, I could argue that we are slowly sinking since the workforce keeps shrinking, making all these DoL statistics look flat when they aren't. This week's first time claims are down, but only after last week's claims were adjusted way up (from 5,000 new claims to 9,000 new claims). In terms of first time claims (the myopic focus of pundits and the media) – it looks to be a wash.
But dig deeper (or just scroll down the page) and the picture gets much darker. From August 6 to August 13 (one bloody week) the number of people on some form of unemployment shot up by 45,531. One week! Imagine if that went on for any number of weeks?
Worse yet, the number on EUC – the last vestige of the unemployed (and thus filled with the long term unemployed) – we see the total rise by 31,261 to a mind boggling 3,118,042 people who are now unemployed for many, many months. DoL states the total number of people on any form of unemployment support is 7,336,276. That means 42% of those on unemployment have been there a long, long time.
My guess is the August unemployment numbers are going to be bad again, and under reported again since the DoL is not going to fix its formula any time soon. I also predict the economic numbers for the 3rd quarter, which just ended yesterday, will not be that good. The federal government is strangling small business into oblivion with pointless mandates and regulations (see here for one idiotic example) and screwed up government take overs (a.k.a. Obamacare).
Now we patiently and nervously wait for 2012 and change that we can count on. The only question now is how many more will be hurt before we can turn this ship away from liberal fantasy land (and all the real pain that comes with it).
Update: Hot Air notices that finally, months into this disaster, the liberal news outlets dropped 'unexpectedly' and went with 'expected'. At least for now!
9 Responses to "Weekly Unemployment Numbers Flat Or Worse"