Apr 13 2011
Been waiting to post this update to the continuing false optimism on the economy and jobs as spun by the liberal media and the incompetent White House. Sadly, the dumbing down of our education system as left an electorate sometimes painfully unaware of how the statistics generated by our government are broken and misleading. As I note in March and in February, the unemployment rate is artificially low because the work force has shrunk massively since the recession. This artificial number has people wrongly optimistic and wrongly patting themselves on the back (Liberals especially).
Here is the decade long look at the March unemployment data in terms of overall work force size and the number of unemployed registered [click to enlarge]: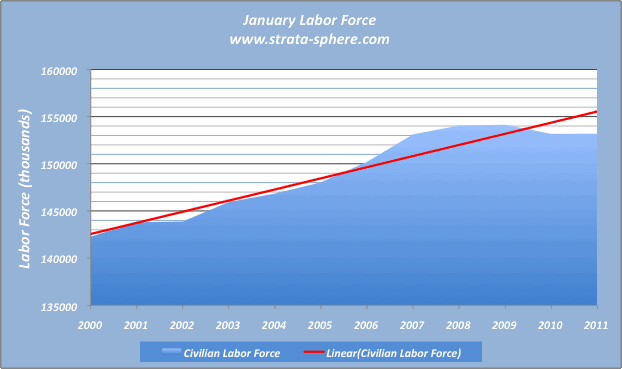 As with the last two months of supposed job recovery, what we see is really a continued drop off in the labor force size (the blue curve), as opposed to the nominal growth in the labor force that goes with the steady increase in population (the red trend line). All data comes from the Bureau of Labor Statistics.
If we recalculate the real unemployment against the nominal labor force (155.9 million verses the current 139.8 million) the real unemployment rate is a staggering 10.3%. Little changed from the 10.4% I calculated last month. The U6 rate, or alternative unemployment rate is not the advertised 15.7%, but actually U6 is running at 17.2%!
So when Obama comes out and tries to claim his policies are working tonight, and he has supposedly created all these new jobs, realize the 1+ million jobs he claims run in the face of 2.7 million less people in the workforce. His stimulus bill failed, as is obvious from simply looking the the U3 (standard unemployment rate) and U6 levels since its passage. And realize the true numbers are much worse.
I noted in red were the recalculated U3 would be if the government adjusted its computations to account for the nominal work force levels. The President's siren song is old, tired and busted.
Update: I also want to note this article from the NY Post that is in a similar vein.
7 Responses to "Obama's Failed Economic Policies – 10.3% Unemplopyment"