Feb 04 2011
The government has put out the unemployment numbers for January, and they are not good (though I doubt the math-challenged media will report anything but rosy news). As Ed Morrissey notes, the reason the unemployment dropped was not the paltry 34,000 jobs added in January, it was because the number of people considered to be 'in the work force' shrunk by nearly 1 million people in the past few months:
… the civilian labor force dropped from 153,690,000 in December to 153,186,000 in January after a recent November peak of 153,950,000. That was a drop of 504,000 in January from December, and 764,000 in two months. The participation rate dropped from 64.5% in November to 64.3% in December and 64.2% in January.
I have noted before how the labor force is well below the pre-recession norms, and therefore the unemployment rate is deceptive (and too optimistic). In that last post on the matter I selected the July labor force trends for the decade. You can select any month and get the same basic trend over the decade, but let's adjust our equations for January 2011 and assuming a steady work force increase that tracks with the population increase.
The following graph shows the January workforce levels since 2000 per the US Labor Department (click to enlarge).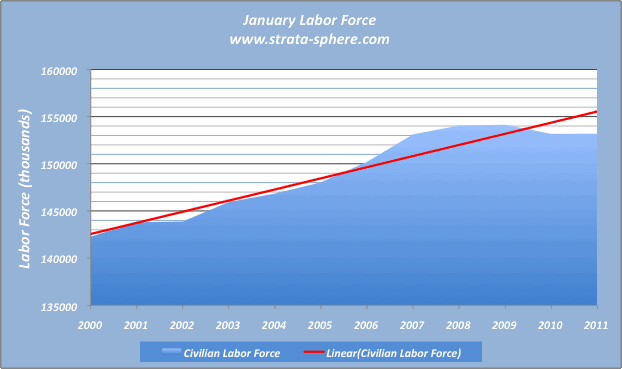 As can be seen there are some fluctuations each year, but a linear trend line (red) can be calculated that indicates the annual growth per year for January. It indicates the January 2011 workforce level should have been around 155,500,000 people – a good 2.3 million more than were reported in the January 2011 unemployment numbers.
If the unemployment is computed against this nominal workforce level, then the actual unemployment rate is a staggering 10.85%. This is the real unemployment number, because it represents the gap between the total available workforce and those actually working (155.5 million and 138.63 million). This more accurate equation indicates a whopping 16.87 million people are unemployed.
If we look at the U6 number (those unemployed and underemployed) the picture of economic suffering in the country is even worse. The real January 2011 U6 is 17.35% (not the 16.1% reported). This represents 24.66+ million people underemployed.
Anyone reporting that the January 2011 unemployment numbers are a positive sign has a huge "Can't Do Simple Math" sign blinking over their head.
Update: AJStrata can confirm for Rick Santelli that he was right when he tried to debunk the spin coming from the media:
You and I both know that the unemployment rate, the labor force moving in and out, those giving up, is really probably your best statistical reason for the drop to 9.0 (percent).
As I showed above that IS 100% correct, it was people giving up on getting work that shrunk the unemployment, not new jobs.
15 Responses to "The Real Unemployment Figure – 10.8%"