Nov 07 2010
Update: Joel Pollak is probably the reason the White House is preparing to protect Obama from a series of scandals. Having reviewed his work I can see quite a few solid congressional investigations coming. This is probably the source of the panic the White House Insider suggests will be coming with the GOP House. With connections to Jarrett, Rezko, Corutthers and his CD opponent Schakowsky this guy's material is amazing.
Update: As I posted this, the WH Insider provides a post election view inside the White House – end update
One of the more interesting rumors to run through the internet prior to the election was a supposed 'White House insider's' account of a coming revolt within the Democrat Party after the midterms. As the story goes, Obama's incompetence – resulting in the 2010 election debacle – has the more seasoned DC Democrats preparing to save the party by sacrificing their young President (experience does count to some degree in this job). There is no way to determine if this is an actual account or simply well crafted fiction. I have no way to confirm or debunk this narrative, and it is not my job to do so. It does seem credible, however, whether it is fact or fiction.
A synopsis of the tale can be found here, with links to the current three installments, with another promised to be coming soon. I want to highlight two passages because they caused me to go hunting for some evidence of one of the claims, and I actually found something surprising. Surprising enough for me to post about this unsubstantiated pre-conspiracy theory.
I can actually believe there are serious qualms with Obama's leadership inside the Democrat leadership – if this disturbing incident actually occurred as described (interviewer's comments are in bold text):
That is a very strong statement – anything recent that causes you to now say you will not support Obama in 2012? (Long pause – question is repeated) – There is much I have been told, some I know, some more that will probably develop in the coming weeks and months. But you want specifics, right? I understand that…I'll give you an example of why President Obama is not right for America. He sure as hell has not been right for the party. Not long ago, the president took a meeting. He's late, which apparently is becoming more and more common with him. The meeting was almost cancelled. In strolls the president, joking with an aide. He plops down on a sofa, leans over and claps another guy on the back asking how he's been. Apologizes for being late, says he was "held up". He laughs some more. The meeting begins. After just ten minutes, during which time the president appears to almost totally withdraw into himself, an aide walks in and whispers something to the president, who then nods and quickly stands up, shakes a few hands and tells another aide to update him later on the rest of the meeting. As the president is walking out he is laughing at something yet again. He asked no questions of those at the meeting – not one. He left after just ten minutes, coming in laughing and leaving laughing. His behavior during that brief time he was there was described as "borderline manic".

…

Care to know what that particular meeting was about on that day?

Certainly – Afghanistan. That meeting was an update on Afghanistan, and the President of the United States, the Commander in Chief, could give a -expletive-.
This really is disturbing behavior, but not beyond the realm of possibility. So while there is no confirmation of all the described angst in the Democrat ranks, I would be more surprised if there were not any angst – given the drubbing the Dems took Tuesday and its implications for the GOP and Dems long term. If the Dems have lost significant ground in the states, they will not maintain a national presence for long.
Which brings me to the passages which sent me on an intriguing internet search:

In your email to me last week, you indicated a scandal was coming to the White House. Could you elaborate a bit more on that now? – Sadly, with this White House it is no longer a matter of a scandal, but of scandals. I see you did a story recently on the Justice Department situation surrounding the voting rights case. Continue watching that – it's going to break open more soon after Republicans take the House.

…

Just tell me about this scandal. (Leans back, folds arms across chest. Looks outside – then back to me) Ok then – I'll point your nose in the right direction. Enough people are sniffing in the same garbage pile anyways, including the Times. Though I suspect they are burying it at the moment, or trying to. They are still heavily invested in Obama, but that may change soon… Go back to Chicago. That is the key. There is other crap around the White House, other things that could trip them up, but Chicago is where the real heavy deal is that could bring the administration down. Go back and review Blagojevich. Go back and review Rezko, Barton, Stern, Giordano, Carothers, Jarret. It's one and the same. It's all connected, and it's big. And people know. The White House is -expletive- itself over this stuff. Pelosi has it. Clintons have it – more of it than they had in 2008.
Emphasis mine. We all know the big nexus between Obama and Blagojevich is the firestorm that erupted over who would fill Obama's senate seat. One name that was prominent in those discussions was Valerie Jarrett, now top adviser to the president. As I was researching various name combinations on the the internet, I ran across this redacted court filing from the Blagojevich defense team regarding Presidential testimony in Blago's corruption trial.
Except that the redacting was not real redacting. If you select all the text in the pdf file, and then copy that to MS Word, all the redaction completely disappears. Even more convenient, the redacted text is left bold as well as visible. So I reproduced the filing with the redacted text now in bold blue text. But I also added presumed names where the filing used abstract titles. I did this using red text. When you combine the two, the filing makes for riveting reading.
Much of the redacted text relates to statements to the FBI and phone tap evidence in the possession of the FBI. Also remember these are snippets of FBI material that team Blagojevich wanted to emphasize – it is not a complete representation of the information the government has in hand.
The following three passages from this more complete view of the filing are the statements apparently made to the FBI by key individuals. I produce them below in chronological order of the FBI interviews, beginning with portions of a December 19, 2008 testimony from whom I strongly suspect is Valerie Jarrett (Senate Candidate B): The other name added was SEIU's Tom Balanoff (union official).
Now, why am I confident Senate Candidate B is actually Valerie Jarrett? Look at the citation at the bottom of this and note it reads: "Senate Candidate B 302, December 19, 2008" under the redaction (I added the red text). This looks to be the person interviewed by the FBI, followed by some kind of court reference number (302) and then the date of the interview. All the statements to the FBI have the same reference number (3020, but different dates depending on whose statement is being referred to.
Now look at this later redacted section:
Notice how the first citation now reads "Valerie Jarrett 302, December 19, 2008"? This is exactly as it was written under the redaction – I did not add any name here (it would have been in red text and brackets of I did). This indicates to me that the December 19th statements cited throughout are Jarrett's. Therefore Senate Candidate B is Valerie Jarrett.
So both of these passages reference Jarrett's statements to the FBI. The first (11) confirms discussions with SEUI's Balanoff, and the second (13) confirms more than one person was offering suggestions or help in prodding Blagojevich to seat her as the next Senator from Illinois. I would not be surprised to discover this Obama 'supporter' is Rezko or one of the other names hinted at by 'the insider'. The 'she' here could be Jarret or the supporter – hard to tell. But what is clear is that Jarret admitted there was an effort to give her Obama's senate seat and she had first hand knowledge of it, including efforts to reach out to Blagojevich. This supporter was caught on the Blago wiretaps (the second citation).
If I am right, Jarrett testified in the first passage to the FBI that SEUI's Balanoff discussed with her, and confirmed with her, that Balanoff had been tasked by the President-elect to contact Blagojevich regarding Jarret's interest to take over Obama's seat. Now isn't that just a tad bit damning?
I want to also draw attention to the last line, where Jarrett notes that Balanoff's 'language' was stronger than she had told the government. Now I don't know if that was the FBI she told (my red text and question mark) or some other government entity. But it is interesting to see this caveat added. Was she admitting to the FBI her previous reports of contacts were not quite accurate? Finally, note the date of the contact between Balanoff and Jarrett – November 4th, the day of the 2008 election. This scheme to seat Jarret was planned out before the election, and went into action the day of the election.
The next two passages independently confirm this account and more, so let's begin with SEIU President Andy Stern's FBI testimony: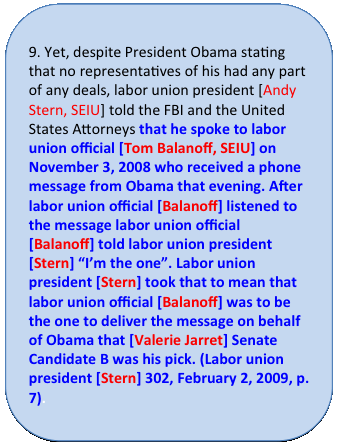 Couple of things to note here. This is SEIU President Andy Stern testifying on February 2, 2009. This is after the Obama administration had been sworn in, but one day before Eric Holder was sworn in as US Attorney General. Also note this was well after Jarrett had spilled the beans in December 2008.
Stern basically confirms Tom Balanoff's testimony, which will occur the next day on February 3rd. Stern admits he talked to Balanoff and was told that candidate Obama contacted Balanoff the night before the election. Stern confirms Balanoff told him that Balanoff been selected as 'the one' to contact Governor Blagojevich about seating Valerie Jarrett if Obama were to win the next day (a foregone conclusion at this point). As Jarrett testified, Balanoff discussed his role as Team Obama's emissary (and one has to assume negotiator) to Blagojevich with Jarrett the next day. What we don't know is what was associated with these discussions, what quid pro quo (if any) were discussed. Blagojevich knows, which is probably why this entire mess could easily blow up on Team Obama.
Next we come to the references to Tom Balanoff's testimony:
Again, we see confirmation of efforts to seat Jarrett in Obama's vacant senate seat from Tom Balanoff, the one who interacted directly with the Barak Obama, Blagojevich and Jarrett. He is the linchpin of the effort – as confirmed by SEIU president Stern. What is most interesting about this passage is the lack of dates. Unlike Stern's account, which notes the phone call from candidate Obama the day before the election designating Balanoff as the emissary to carry Jarrett's water to Blagojevich, we don't see much detail on previous discussions – which of course happened. You don't call up one day and tell someone to do this kind of work and they run off and do it.
For this coordinated effort to go into execution the day of the election, with a final green light phone call from Obama to Balanoff the day before the election and a discussion between Jarrett and Balanoff the day of the election, things had to have been discussed and planned out well in advance. No one just runs open loop when senate seats are in play.
What we do know is Balanoff executed his directions from Barack Obama, and by November 5th, the day after the elections, he had contacted Blagojevich: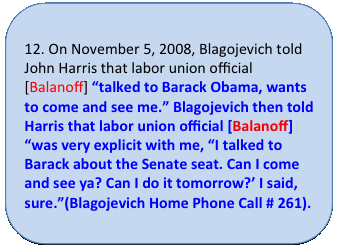 Now, this all assumes I got the names right – and I am 95% confident I did. Only with these names does the reading make sense to what we already know. The linchpin here is Jarrett as Senate Candidate B. I would wager the full testimony would impact much of this significantly (which is the problem with incomplete information provided by one side in a legal case). But I think there is enough here to indicate Team Obama was discussing how Jarrett (and later others) could take Obama's senate seat with Team Blagojevich, and the SEIU clearly admits it was the liaison between the two camps.
So what could this supposed White House Insider see in this that could bring down Obama's administration? Well there is always the cover up – Nixon's dirty tricks did not include bartering for a US Senate Seat. The public denials do not fit the testimony we see referenced here. And since the last depositions took place after Obama and Holder were in office, we can see the parallels to the the Black Panther case – where justice turns a blind eye to inconvenient truths.
There also could be an iceberg tip here – as the insider claims. Upon further delving I ran across these stories:
Real Estate Corruption in Chicago
Kickbacks to Obama Campaign In Suspicious CHA Bid/Win
Major Federal Investigation Into Chicago Politics
Are there a set of dominoes ready to fall, starting from the White House and ending in the corrupt Chicago politics? And will senior Democrats, desperate to stop the implosion of their party at the hands of this administration, be the ones who start tipping those dominoes? It is often forgotten that Nixon's fall was preceded by senior Republicans turning on him, willing to support and drive Congressional investigations. Is history about to repeat itself, this time around the selling of a Senate seat?
17 Responses to "Are Democrats Ready To Turn On President Obama?"