Nov 02 2010
Forget all those polls you have seen the past two weeks with Jerry Brown and Barbara Boxer winning their contests today. There have been long term concerns with the CA polls, which have assumed a massive Democrat edge in turn out near or above 2008 levels, thus propping up the two Democrat candidates in the final results. This of course has always seemed at odds with the depth of CA congressional districts in trouble and potentially going GOP.
The Field Poll has now cemented that concern by showing a huge GOP turnout edge:
Mark DiCamillo, Field Poll director, said his polling projects turnout of 68 percent for Republicans, 55 percent for Democrats, and 38 percent for independent or minor-party voters.

The bottom line for Democratic gubernatorial candidate Jerry Brown and Republican Meg Whitman is that Democrats' 13-point lead in voter registration will shrink to a 5 percent advantage in votes cast because of the disparity in turnout, the poll found.

DiCamillo said that the Tea Party movement is expected to bolster Republican turnout this year, with roughly 40 percent of likely California voters indicating at least some identification with the populist protest movement.
The full results are here. This means the GOP-Independent portion of the electorate is going to rival the Democrats at the polls (click to enlarge).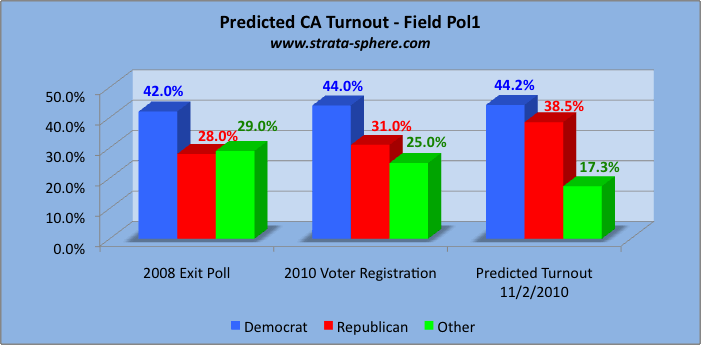 Again we clearly see an intensity gap for the GOP voters, running a good 7% above their registration level. This is not how the CA electorate voted in 2008. The exit polls in 2008 showed the Dems with a 13% lead (42-28), not a 5% one.
As I have done with the early voting data, I can run two scenarios through the turnout model and determine who wins the votes. If we assume both parties hold 95% of their base and the GOP takes independents by 20% (a fairly universal national benchmark this year) then we end up with a near tie as the Dems win by 1.7% (50.8 D – 49.2 R). This defies the poll results we have been seeing in CA, especially in the governor's race.
If assume the GOP actually will take 15% of the Democrat base along with that 20% lead with the independents, then the GOP wins the vote by a whopping 7.2% (46.4 D – 53.6 R). This second model combines the GOP enthusiasm gap, the independent voter gap, and the yet to be confirmed democrat defection rate. I wager that the actual outcome in CA will be between these two markers, which means the GOP is likely to win both statewide races. As they say, turn out is everything.
8 Responses to "California Shocker – Were The Polls Wrong?"