Oct 20 2010
We are getting actual data now due to early voting, and it shows a GOP enthusiasm blow out when compared to either proportions of voter registration rolls or proportions of votes in previous elections. The first indication we have of an enormous wave is in PA, where Politico is reporting early voting is swinging heavily towards the GOP:
As of last Friday, 171,860 Republicans had asked for ballots, compared with 155,440 Democrats, giving the GOP a 49 percent to 41 percent lead. Republicans held a 56 percent to 37 percent lead among the close to 66,000 who have already voted.

While historically more Republicans than Democrats vote absentee, Toomey's campaign is heartened by the early gap.

"It's beyond anything we've historically seen in Pennsylvania. That's a net 19-point move from the Democratic registration advantage," said Toomey campaign manager Mark Harris, pointing to the Democrats' 11-point party registration advantage.
Remember, these are not 'likely voters' they are actual voters. The latest PA voter registration data shows the Dem with 51% and the GOP 37%. The early voting numbers are completely flipped from a -14% for the GOP in registration to a +19% in votes! If we look at the exit polls from the last few election in PA we see the Dems have been +7 (2008), +4 (2006) and +2 (2004). Never have they been -19%! Will this gap stay at -19%? I doubt it. But the enthusiasm in PA is quite apparent and strong so far.
Secondly, I noted a very nice website for North Carolina this morning, and began to monitor its early voting tallies by party (click to enlarge):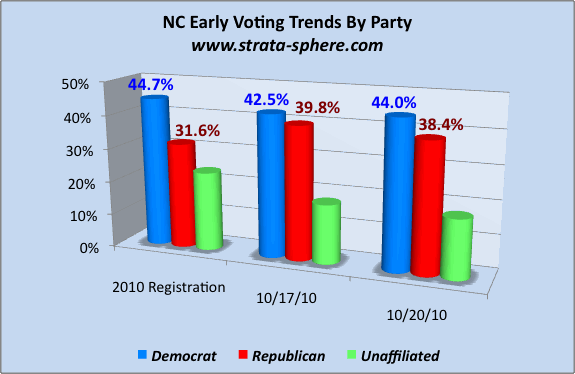 As can be seen the GOP is running about 7-8% above its registration levels. The Dems are holding at their registration levels. Since the GOP supports their candidate at much higher levels than independents do, this is bad news for all Dems in the state. I will continue to track the vote tallies by party and compare it to the voter registration proportions. I will be updating this chart to keep a running pulse on this election.
Now moving to polls instead of votes we get this national data from the latest NBC/WSJ poll, which looks as bad or worse than the latest Gallup generic ballot models:
The new NBC/Wall Street Journal poll came out this morning, and there's no sugar-coating it: The poll has some very grim results for Democrats. In the 92 most competitive House districts, the GOP's lead among registered voters is 14 points.

But what may be even worse are the numbers that show how bad the "enthusiasm gap" remains, with less than two weeks until election day.

NBC sends over a partisan breakdown of the two questions designed to measure voter enthusiasm, and the results are striking: The GOP leads Dems by at least 20 points on both of them.
Then there is this stunning poll from NY-22, a D+6 district, via Jim Geraghty:
Maurice Hinchey …………………………………………………………… 43.2%

George Phillips ……………………………………………………………… 43.2%
A while back I estimated this year's political tsunami could reach as high as D+6, and if it did the Dems would lose over 70 seats. Seems this is not wild speculation.
9 Responses to "GOP Blow Out In Enthusiasm"