Oct 01 2010
While I tend to watch the RCP senate map to see where the November elections are heading, I think the Pollster.com senate picture is actually more accurate. The snapshot below (click to enlarge) is from today, and it represents the current state of play in the Senate much better in my opinion.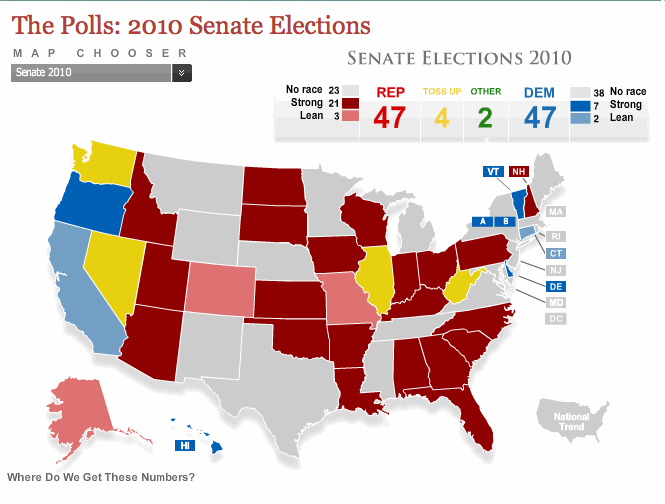 Pollster.com shows the Dems and GOP both at 47 (RCP has it 48-46, Dems) because it keeps the two independents out of the Dem column (does anyone think Independent Joe Leiberman would not caucus with the GOP to retain some power?). Pollster.com has CO in the GOP column (which is where it will be soon enough in RCP). The tossups are WA, WV, IL and NV. The Dems need to win 1 of these 4 to retain control (with VP Biden breaking the tie) and the GOP needs all 4.
Seems tough, but the fact is the toss ups all look really good for the GOP. In NV Reid has yet to get above 45%, which is the death point for ALL incumbents. Add to that his son is at the top of the ticket running for governor and losing badly. It is not hard to see reverse coat tails, where his son drags down dusty Harry to defeat. Once you vote the son out, might as well send dad packing too!
WV is trending strongly GOP because the vote there is not for favored son Governor Manchin, it is against the liberals in DC. IL is well within reach as is WA. So while this map looks at a glance to be tougher, the reality is it is very close to the most likely outcome. CA and CT and NY-S all are allocated to the Dems (no sure thing, but the polls so far show enough lead this is the likely outcome). Today this picture of the senate looks to a 51-47-2 spread (R-D-I), which is where I think the most likely outcome is 4 weeks out. But if there is a big, unseen wave out there, this picture would be the low end of some truly surprising scenarios.
12 Responses to "Dems-GOP Tied For Control Of Senate"