Aug 27 2010
As the Obama-Reid-Pelosi economic policies hit their stride the horrid results are coming in:
The U.S. economy grew more sluggish than initially estimated in the second quarter, and corporate profits nearly dried up, further evidence that the recovery is losing steam.

Gross domestic product, the value of all goods and services produced, rose at an annualized seasonally adjusted rate of 1.6% from April to June, the Commerce Department said Friday.
Under the burden of unimaginable deficits and debt (Democrats will produce the same amount of debt it took this nation 225 years to build up in only 5 years given current budget projections), a failed stimulus approach, and the promise of crippling Obamacare costs (no more pretending it saves money!) it is not surprise the economic engine of this nation has stalled under the weight of socialist policies. An even worse indicator is the number of people on Extended Unemployment Compensation. Here is a chart showing the weekly number of Americans hanging onto this last life-line of unemployment assistance (click to enlarge):
Before the health care bill was passed, before the depth of the Democrats' economic failure was fully appreciated, the country was trimming down the rolls of the long term unemployed. That changed in the early spring of this year. And late this summer those rolls started to expand again – at a staggering rate.
An even scarier chart is the month to month change in the number of people on EUC. Check out the impact the Wreckovery Summer is having on the long term unemployed (click to enlarge):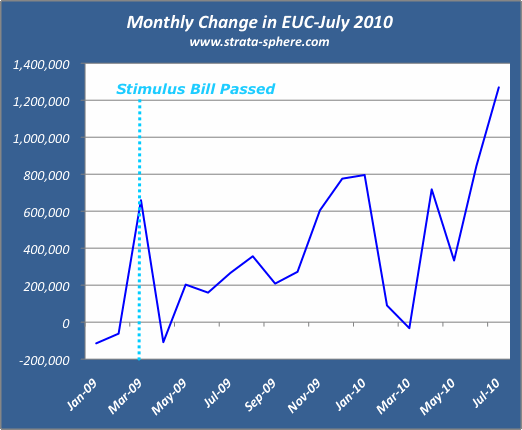 In July alone 1,296,516 people were added to the rolls. As the monthly change indicates, the unemployment picture is not getting better and has not been since March 2010. I hope we will not see a double dip recession, but the signs are not good right now. I firmly believe a good cleaning out of DC politicians in November will spark a real economic recovery. At least that is the closest event on the horizon that could change the mood of the country.
Update: Mort Zuckerman let's go with both barrels against the Democrats' economic madness:
There is another instinctive conclusion among the American people. It is that the national deficit, and the debts we have accumulated, are of critical political importance. On the national debt, the money the government has spent without the tax revenues to pay for it has produced mind-numbing numbers so large as to be disconnected from reality. Zeros from here to infinity. The sums are hard to describe; it is hard to describe an elephant, but you know one when you see one. The public knows that, shuffle the numbers as you may, the level of debt is unsustainable.
It is always the economy first, stupid. Screw that up and you have no hope of being put in a position of leadership again.
10 Responses to "Democrats Stalled Our Economic Engine"