Aug 18 2010
I have been expecting for days now for President Obama's drop in Gallup's approval to slow or stop, but I have been surprised by the fact his free-fall continues. Â Today's Gallup numbers are stunning, with President Obama down -9% (click to zoom):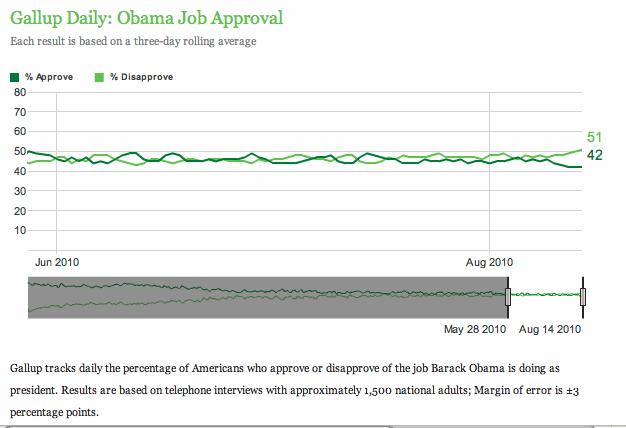 Even more important is the fact this is a poll of Adults! What this means is the picture is even bleaker if we look at Registered Voters. A rule of thumb would be to adjust the numbers away from the Democrat 2-4 points between Adults & RVs. I would wager the RV version of this poll is probably 41-52% (or -11%).
But likely voters in a midterm election, with this kind of enthusiasm gap, is even more important to understanding what could happen in November. I would expect that to represent another 2-4% shift away from the Democrat. So could likely voters be going to the polls with approval for Obama sitting at 40-53% (-13%) or worse? Seems very possible at the moment.
Wouldn't that point to Democrats being wiped out in droves in the House and losing control of the Senate?
13 Responses to "How Low Can "O" Go?"