Apr 14 2010
Democrats have a lot of reasons to be concerned about this fall's elections. Mostly, the economy sucks and will continue to suck for the every day citizen for months (if not years) to come. Â Unemployment is stubbornly stuck near 10%, and the weekly job reports have been running in the same narrow band of 400,000+ NEW submittals for months now. Â The number of people on Emergency Unemployment Compensation still runs around 5.5 million, and the under employed (U6) is edging back towards 17% (see charts below, click to enlarge).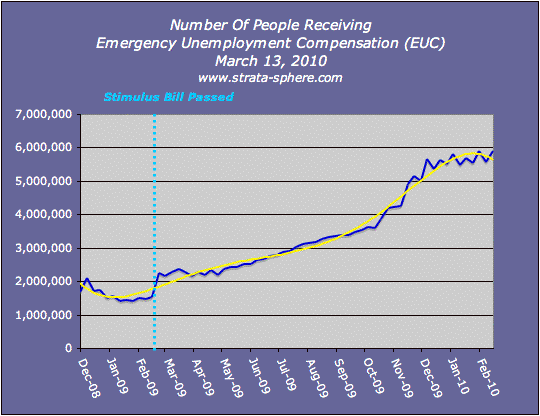 Add to this the recent drop in support for Dems on the Congressional ballot and the easy target of them losing 8 Senate seats this fall and the perfect nightmare political storm has arrived. This post by Sean Trende at RCP provides an excellent overview of the possible options as we head towards tax day:
A 1994-style scenario is probably the most likely outcome at this point. Moreover, it is well within the realm of possibility – not merely a far-fetched scenario – that Democratic losses could climb into the 80 or 90-seat range. The Democrats are sailing into a perfect storm of factors influencing a midterm election, and if the situation declines for them in the ensuing months, I wouldn't be shocked to see Democratic losses eclipse 100 seats.

…

This year, five different polling companies have put Republicans in the lead for the generic ballot in the last two weeks alone – one reason why Michael Barone calls this the worst polling environment for Democrats "during my 50 years of following politics closely." The RCP Average has Republicans leading Democrats by 2.8 points on the generic ballot test. That should equate roughly to a 225-seat Republican majority (Republicans won the national vote by 5 points in 1994), which would almost represent a 50-seat pickup.

But many of these polls survey registered voters. Polling among likely voters, such as Rasmussen Reports, shows Republicans up by about 8-10 points, which would probably represent a seventy-seat pickup.

And the polls of the most highly energized voters are even worse for Democrats. RecentNBC/WSJ polling found that Democrats led by three points among registered voters. But among those most interested in the November elections, Republicans led by 13 points.
I tend to think the Dems are in much bigger trouble than most people are willing to admit because they off year elections are historically bad for the President's party, the likely voters tend to be the most energized and the most energized voters are those out for some Congressional scalp.
There is no game changer out there for Obama or his liberal congress. There is no health care fix coming, there will be no massive creation of new jobs. More and more people are going to go underwater financially, deficits are continuing to soar and Obama seems lost and wandering around making waves but no real progress.
The Dems over promised and failed to deliver on many fronts. And people are now realizing Washington  DC is the cancer, not the cure, and needs to excised. We shall see if this anger simmers down or boils over, but I see no reason for people to forgive the Democrats for their failures.
16 Responses to "Democrats Could Face Historic Wipeout This Year"