Apr 07 2010
Over the weekend I produced a timeline of reported events and on-the-record comments by key Obama administration officials charged with protecting this nation from terrorist attacks. In that post I noted how events and statements indicated that the Obama administration had naively and deliberately decided to take their eyes off a key terrorist link because he was an American. An American who fled this country after 9-11 under a cloud of suspicion he was part of the support infrastructure which provided assistance to the 9-11 high jackers/mass murderers.
Today the Obama administration admitted and proved that my assessment was indeed accurate.
The person team Obama willfully ignored is Anwar al Aulaqi. He was at the center of two of the most successful attacks on US soil since 9-11: the Fort Hood Massacre carried out by Major Nidal Hasan (also an American) and the Christmas Day Bombing attempt over the skies of Detroit by Umar Farouk Abdulmutallab.
Here is the timeline (click to enlarge).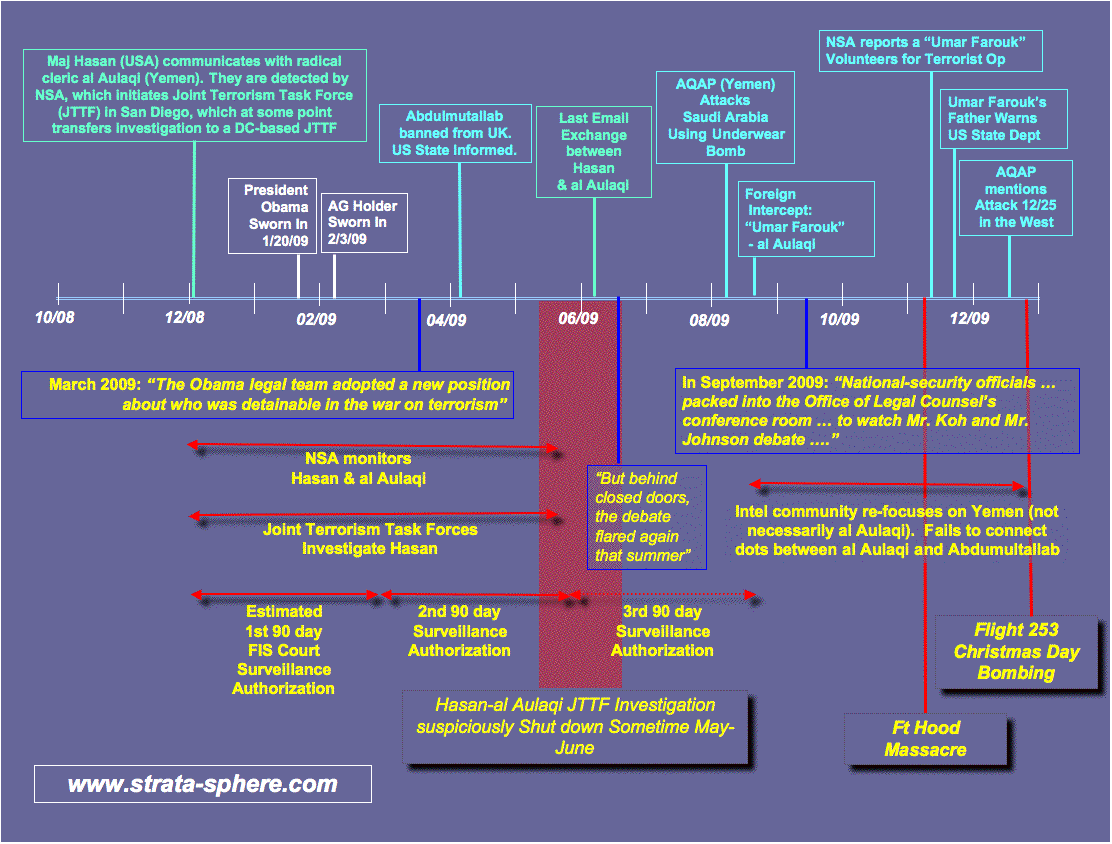 Please refer to the previous post for  detailed explanation on why it illustrates clear evidence that liberal dogma inside the administration led them to decide to waive mounting evidence against al Aulaqi and his support for al Qaeda and its Jihad on America in determining the threat of this man. The post shows how the administration instead went stupidly back to the pre 9-11 mentality that left us exposed to deadly terrorist attack at the turn of this century. Because this man was an American, and due to all the liberal hand wringing about the USA possibly monitoring US citizens thought to be working with terrorists (under the guise Bush was listening to liberals babble), Team Obama established new rules for chasing down terrorist leads. Rules that left over 30 people dead at Ft Hood and over 300 within a few seconds of death on Flight 253 as it landed in Detroit, MI.
As if this record of events and statements is not enough evidence, yesterday the administration came out and announced my damning assessment of their actions and decisions was 100% right:
The Obama administration has authorized operations to capture or kill a U.S.-born Muslim cleric based in Yemen, who is described by a key lawmaker as Americas's top terrorist threat, officials said on Tuesday.

The decision to add Anwar al-Awlaki, of al Qaeda in the Arabian Peninsula, to the target list followed a National Security Council review prompted by his status as a U.S. citizen.

Officials said Awlaki directly threatened the United States. "Awlaki is a proven threat," said a U.S. official, speaking on condition of anonymity. "He's being targeted."

…

"He is very much in the sights of the Yemenis, with us helping them," said Harman, who recently visited Yemen to meet with U.S. and Yemeni officials.

She told Reuters that Awlaki's U.S. citizenship made going after him "certainly complicated."

…

U.S. intelligence agencies had viewed Awlaki as chiefly an al Qaeda sympathizer and recruiter for Islamist causes with possible ties to some of the September 11, 2001, hijackers.

That assessment changed late last year with revelations about his contacts with a Nigerian suspect in the attempted bombing of a transatlantic passenger jet as it approached Detroit on December 25 and with a U.S. Army psychiatrist accused of shooting dead 13 people at a military base in Texas on November 5.
Clear and absolute confirmation of what I wrote Sunday.
But what is not admitted in this CYA piece by Reuters is the fact that a Joint Terrorism Task Force investigating Hasan was suspiciously shutdown at the same time the liberal Obama team was changing the rules on who would be investigated using the Bush era NSA-FISA fixes. As team Obama put the blinders on, it also directed our intelligence community to STOP monitoring al Aulaqi and his activities – he was an American after all.
Team Obama was clear last year as outlined in the NY Times article which is the basis of the previous post. Without solid and established proof of DIRECT support for al Qaeda's terrorism war the benefit of doubt was to be given to the possible terrorist suspect, not to protecting US lives.
When I wrote the previous post I suspected the NY Times piece was the first step in a liberal media white wash of Obama's deadly mistakes. The Reuters piece ,with its complete lack of analysis on why all al Aulaqi centered investigations were closed down (Hasan) or quashed (Abdulmutallab), is just more proof the media is trying to cover up for the administrations criminal negligence.
Team Obama deliberately took our eyes off al Aulaqi and Hasan because of dumb liberal dogma – and Americans died. The proof has now been provided by Team Obama themselves.
14 Responses to "Obama Administration Confirms My Assessment On Their Deadly National Security Failures"