Apr 02 2010
Barack Obama is down in North Carolina today to put on one of those media shows for the easily duped. He is going to tout 300 mythical jobs created – which do not exist:
When President Barack Obama comes to Charlotte today to tour Celgard, a battery-parts maker that has received $49 million in stimulus money, he's sure to tout how government money will put people to work.

He's visiting a company that hasn't yet spent any of its stimulus money, according to federal documents. But his visit highlights the administration's focus on using stimulus funds to create green jobs and push energy efficiency.

Celgard wouldn't talk Thursday about its plans or the specifics of its grant. The governor's office has said the money will help create about 300 jobs over the next five years.
So why have these 60 jobs/year not been created yet? The stimulus money is stuck in the federal bureaucracy, where it has been sitting around doing nothing for over a year now. Â For almost a year I have tracked the stimulus bill progress of 6 federal organizations, which were budgeted one third of the stimulus money last February. Among them are two of the largest recipients of stimulus: the Departments of Energy and Transportation. Remember – these were to be 'shovel ready' jobs, a quaint and completely misleading phrase in government funded jobs.
To spend budgeted money the federal bureaucracy must go through some lengthy bureaucratic steps to get the money to actually do something productive. The first step is to 'obligate' the budgeted money towards approved programs. Approval takes lots of time and paperwork to make sure the program is environmentally safe, properly scoped, has defined all the mountains of paperwork it will require to report its delays and over runs, has the proper set asides to minority owned and disadvantaged businesses, etc.
To date the government has made huge progress on the obligation front, as can be seen in the following charts (click to enlarge). 67.5% of the budgeted funds for these 6 organizations has been assigned projects. NASA has obligated 85% of its budget, Department of Transportation comes in second with 79%.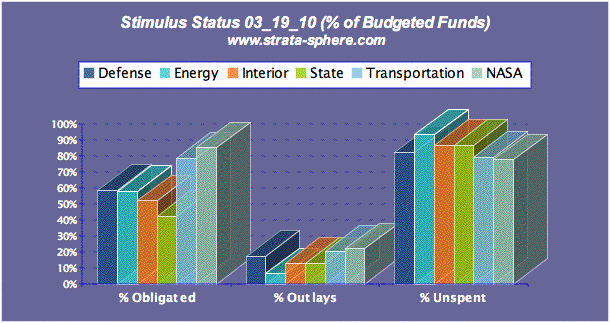 The first chart shows the actual dollar values for (moving left to right) the budgeted value, the amount obligated, the amount spent and the amount left unspent. The second chart converts the last three columns into percent of the budget (first column). [Note: the government stopped including the 'budgeted' figures from its website last spring when it became apparent progress against this benchmark was making the administration and congress look like extreme exaggerators. The full budget numbers are now hidden in the early organizational excel reports].
But obligating is not spending. Once obligated to a 'project' then a government bureaucratic cell is born and starts to plan for the procurement process. This is were the government further refines its requirements and mountains of documents and puts out requests for bids on the work. Then it spends weeks or months reviewing the proposals before selecting a winner (or winners). Then and only then can actual work can begin. This process takes years.
This is also why government spending can never, ever stimulate an economy and create jobs quickly. To date the government is failing miserably in the 'spending on actual jobs' front. Only 14.2% of the $105 billion budgeted for these 6 government organizations has been spent since the stimulus bill passed over a year ago. Not surprising NASA and DoT lead the pack with over 20% of their budgets spent – but this means they will not have spent the full amount of money on 'jobs' by the end of this year either. There is no possible way for this to happen.
The Department of Energy, in charge of battery research, is the slacker of the bunch. It has only obligated 7% of its $45.2+ billion budgeted last February. 93% of its 'shovel ready' funds are still stuck in its bloated federal bureaucracy.
Which brings us to today's March unemployment numbers (click to enlarge).
March showed no change in the unemployment rate (U3) – it has remained stuck at 9.7% for the 3rd month in a row. But this is not really good news. The nation's unemployment should have moved down due to the massive hiring for the US Census survey. Everyone knows census jobs are not career making jobs, but they are jobs and they should have pushed the unemployment rate down. The only clear answer to this puzzle is that there are equally massive and offsetting job losses going on in parallel.
The broader metric of underemployment (U6 – which includes the unemployed and those working part time or in lesser jobs) is actually rising again, which means this is probably the case. It has now moved up to 16.9%. This broader index has been bobbing between 16.5 and 17.4% since last May – through the worst of the recession. Gallup has their version of underemployment hitting 20%.
Yesterday the weekly unemployment report had some possibly good news about our recovery. Like the U3 unemployment it seems to indicate we are not sinking any deeper, which is good news. One metric that could be an early indicator of job creation is the number of people on the long term unemployment rolls, represented by the Emergency Unemployment Compensation (EUC) federal program. EUC is the last sanctuary for the long, long term unemployed and it  has been pretty flat in February and the first half of March (note that this metric lags way behind the monthly data):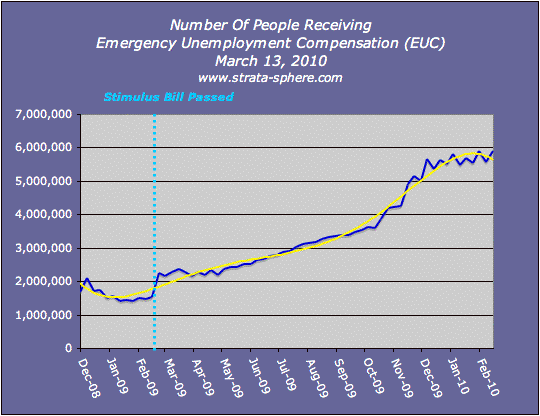 Since November the roles were growing by around 600,000-750,000 per month. February they slowed to 90,000 and have been pretty flat in March. Sadly, this all could be due to the Census Bureau hiring of canvassers.
Anyone cheering this report is buying into the facade. We know the economy will come back sometime. But those census jobs will disappear again near the end of this year as we head into the November elections. So will any summer jobs that might look good in the next few months as they come on line.
If the liberals want to pretend this is all great then they are simply emphasizing why they should not be in charge of this great nation. This sucks and their stimulus bill sucked. Crow about this mess and you have destroyed your credibility for life.
9 Responses to "The Liberal Faux Jobs Show Comes To Carolina!"