Dec 22 2009
Boy, you really have to be a zealot to vote for something the public disapproves of by huge margins:
As the Senate prepares to vote on health care reform, American voters "mostly disapprove" of the plan 53 – 36 percent and disapprove 56 – 38 percent of President Barack Obama's handling of the health care issue, according to a Quinnipiac University poll released today.

Voters also oppose 72 – 23 percent using any public money in the health care overhaul to pay for abortions, the independent Quinnipiac (KWIN-uh-pe-ack) University poll finds.

American voters also disapprove 51 – 44 percent of President Obama's handling of the economy and disapprove 56 – 37 percent of the way he is creating jobs.
Goodness, these Democrat Lemmings are determined to show the American people how stubborn and dumb they are ('they' being Democrats). As I noted yesterday, the 2010 elections will be a wipe out of the Dems, since they clearly require the 2×4 across the forehead to get the message about We The People – and all that stuff.
Update: Also as I said yesterday, President Obama is heading to be a classic one term disaster, like Carter before him: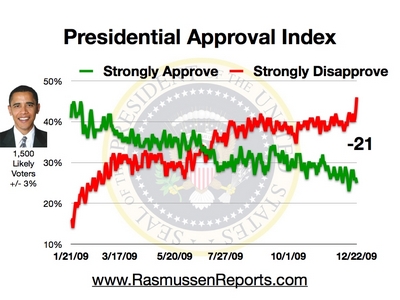 Overall, 44% of voters say they at least somewhat approve of the President's performance. Fifty-six percent (56%) now disapprove.

Seventy-seven percent (77%) of Democrats approve while 88% of Republicans and 62% of unaffiliated voters disapprove.
These numbers might bounce around but I would wager they are about to set into cement for the coming years. The fact independents now disapprove of Obama (the most popular of Democrats) by 62% means they are now around 2 to 1 against the President. And once they decide to oppose him they will not be coming back. That is the way independents are.
19 Responses to "Democrat Lemmings Head Over The Cliff"