Dec 17 2009
Don't trust statistics unless you know exactly how they were generated and what the error or uncertainty is in the number. And always question a surprise positive jump in any number when it comes from an administration in desperate need of a surprise jump in that number.
Take November's lost jobs number – it seemed to be one hell of a turnaround from the year's worth of data, where job losses averaged over 100,000 a month. 11,000 (the supposed jobs lost in November) is only 10% of the long term trend, which would be round off error in any estimate in my opinion.
What makes the November numbers unbelievable is the fact other unemployment numbers are either steady or skyrocketing. The unemployment and underemployment rates are basically steady – which belies any idea there were massively fewer jobs lost last month. But an even stronger indicator is the Emergency Unemployment Compensation (EUC) rolls, which skyrocketed by 604,209 in November alone, reaching an astonishing 4,226,300 at the end of November: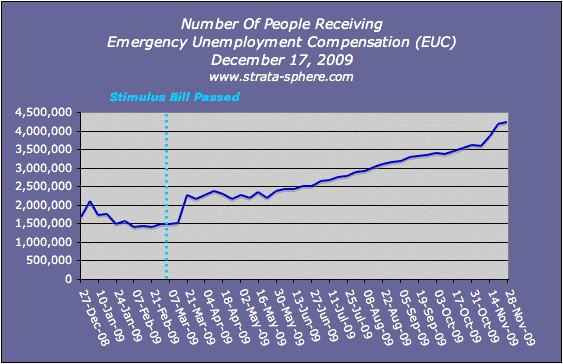 I seriously doubt November was all that good. It was more likely an artifact of the short holiday month than any real uptick in the economy – as this week's job report shows (original here).
The number of newly laid off workers filing claims for unemployment benefits unexpectedly rose last week as the recovery of the nation's battered labor market proceeds in fits and starts.

The Labor Department said Thursday that the number of new jobless claims rose to 480,000 last week, up 7,000 from the previous week. That was a worse performance than the decline to 465,000 that economists had expected.
Apparently there has not been sufficient seasonal hiring, as would be expected this time of year. Which means the January numbers that come out around the State of The Union speech are going to be horrific. A seasoned administration would have known not to let the liberal ideologues get them into this mess with their ridiculous stimulus bill. But the inexperienced President Obama did just that, and will pay for that mistake all through his administration.
Real executives don't outsource the hard decisions.
5 Responses to "Nation's Number Of Unemployed Still Expanding"