Dec 15 2009
The fraudulent representation of scientific data is going to be the death knell of AGW and what is written on the headstone.
Here Lies The Scientific Method
Assassinated By Global Warming Fanatics
Too many of us who should know better and could have seen the problems with AGW theories earlier left it to the scientific community (awash in government and corporate funds) to do the 'right thing'. Boy, were we wrong.
Joanne Nova has another damning example of how graphs have been used to misinform the public, and it has to do with the relationship of CO2 to warming – the heart of the theory behind global warming and all these schemes to tax the world into economic oblivion:
Here is the first chart shown by Al Gore (used car salesman extraordinaire) relating CO2 to Temp.
AJStra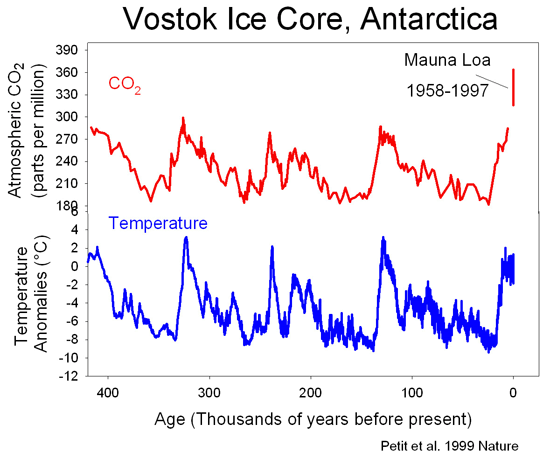 Looks pretty damning. Looks like CO2 and Temp are in lock step. Too bad too few people take the time to look at and digest the x and y axis and what it means. This represents almost half a million years. Its like watching a movie at ultra fast forward.
Now here is a blow up of that chart to show the timing of the two curves on a more reasonable time scale, covering only 50,000 years or one tenth span of the previous chart: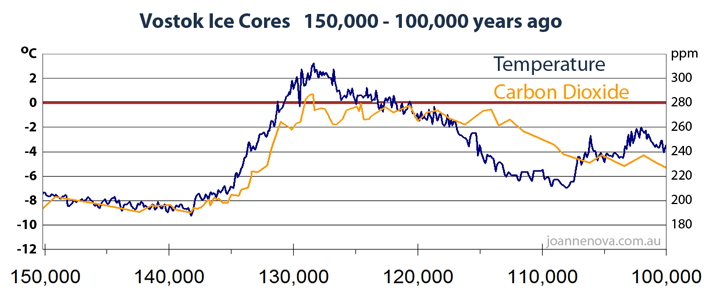 Now we see things that are very elemental to the theory of man-made warming. Things that destroy the theory completely. We can now see an 800 year lag in the CO2 response to warming temperatures. Not driving temperature, responding to temperature. This is why time was sped up in the chart above – to hide the lag!
Ice cores are great proxies because the link between temperature, CO2 and the make up of the ice is driven by chemistry. It is a physical process with little and consistent ambiguity. Unlike tree proxies (living organisms) which have many conflicting factors effecting growth and very few samples which make the connection hazy at best. The chemistry makes the historical record crystal clear (pun intended).
What is a crime of deception is hiding all this stable and clear evidence inside a time compressed graph. When we uncover the 'trick', we find more evidence AGW is a failed theory. And we find more misinformation. Science as 'tricks' instead of 'truth'. Thus ends the respectable field of science.
11 Responses to "Hide The Lag! AGW Theory Destroyed By Ice Core Record"