Dec 11 2009
Folks, editing this into real English!
Steve McIntyre, a retired business man from Canada who is well versed in statistical methods, has been uncovering a number of serious and fatal flaws in the science of global warming. One of his most famous is where he showed how warmists (and Al Gore) were splicing two data  sets onto a graph to create the mirage of rampant global warming (the infamous Hockey Stick). This is scientific fraud my friends – plain and simple.
Today McIntyre treats us to a detailed and technically rich forensic report on how Mann, Jones and others were pressured by the IPCC to make current climate look much more dramatic than it was (or is). They needed to show unprecedented warming, and they data was not giving them what they needed.
Steve is a very detailed oriented fellow, and his methods are complete and extremely well documented. Which means they don't translate well into the sound bite thinking of the news media (who can barely grasp what this is all about anyway). So while I was reading his post I wanted to show a synopsis of his findings, and I found something extremely disturbing and what I see as the end of the global warming myth as we know it. Scientifically it is dead due to the rampant fraud we now see in these newly disclosed efforts to hide the decline.
Let be begin with the first graph produced by the alarmists in 1999 for a meeting in Tanzania, where the IPCC complained the climate change being shown was not dramatic enough.
One thing to note here is how the modern day spike is not much warmer than previous warm periods (the blue region, not the line!). The graph clearly shows the world coming out of the Little Ice Age which ended around 1800-1850. And while this is not very dramatic warming, it does already include an early version of Michael Mann's "Nature Trick" highlighted in the CRU emails made public.
I have blown the last bit of the graph up to illustrate how these alarmists were already splicing raw data onto statistical data (which, being averaged will have much less variability and therefore lower peaks and shallower valleys than the raw data).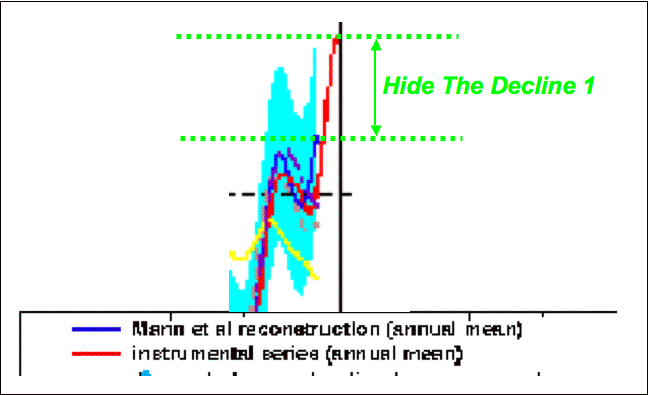 This is a con, a lie, Â a deliberate effort to make the current temperatures look dramatic. I call this "Hide The Decline 1" – for Mann's first effort to appease the IPCC. Â We can clearly see the instrument record (red) being used to create a false temperature peak beyond Mann's statistical model (blue).
Let me illustrate this using a CRU graph of monthly temperature indices verses a trend line (the statistical model of the values – click to enlarge):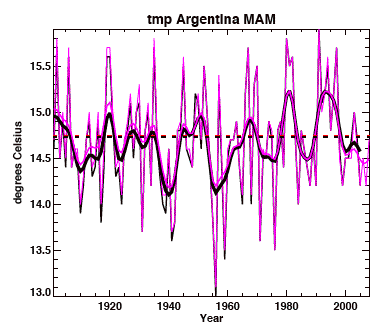 See how the black and purple trend lines reside well inside the black and purple 'raw' data they represent? This is why you don't mix the two to create a hybrid (and deceitful) line. You can distort the statistical model (trend) anyway you like by adding in the raw data it is meant to model. That is cheating.
From McIntyre's investigation the IPCC was not happy with this first attempt to hide the decline with Mike's Nature Trick. So the 'scientists' went back and created a better fiction. Here is their later chart, with the new numbers and a more dramatic rise in modern temperatures.
I wanted to highlight the changes so I laid the charts side by side with the intent of running horizontal lines for comparison. First thing I noticed is the "y" scale in the later graph is 0.5°C higher than the original! They had to raise the scale to absorb their data manipulations and do a better job of making modern climate look unique. That in itself is very telling.
Here is what I finally came up with:

Sort of stunning, isn't it.
Mann and Jones did something to that original temperature record to push its peak a good deal more beyond the end of the statistical record than in their first try. This is much more than just adding the temperature record to the statistical model as in Hide The Decline 1 – that is shady and fraudulent enough. This is further 'adjusting' the temperature record to make it look even more dramatic – a good 0.4°C more dramatic.
What is settled is this is not science, this is a charade. And it would be very difficult to have proven this without the CRU emails and documents dumped late last month.
Through much of this Keith Briffa appears in many of these emails to want to let the data speak for itself. He is constantly badgered to make adjustments, but in the end Mann and Jones simply stop using his data past 1960. I think this is why Briffa may have went searching for the magic larch in Yamal, Russia. The tree that could put his tree ring research back into the IPCC fold (and funding).
If I had to guess who could be a candidate for the whistle blower, right now my money is on Briffa and a band of CRU employees whose conscience finally got the better of them (or the FOIA efforts were going to tip his hand anyway).
I think it is safe to speculate that Mann and Jones were at the center of running the con with a tight group of useful idiots willing to help out (and become famous for their efforts). Then you had a sea of scientists who just wanted to believe the AGW myth and never even attempted to challenge it. Add in gullible journalists and pols without any skill or education to know better one way or the other and you have the current AGW fad.
A fad now being forensically dissected scientifically, possibly exposing a fraud.
12 Responses to "Climate Detective Steve McIntyre Solves Another "Hide The Decline" Coverup"