Dec 06 2009
President Obama is on the verge of a critical tipping point in the polls. On Oct 21st I made the following prediction regarding Obama's numbers in the Rasmussen poll:
If Obama's "Strongly Approve" drops to 25% and his "Strongly Disapprove" goes to 45%, and Congress stays in the pathetic 20% approval rating zone, there will be enough new faces in DC to undo anything done by this out of control Congress.
Today Rasmussen's numbers are flirting with this tipping point (where the 'strongly disapprove' are statistically twice the 'strongly approve).
The Rasmussen Reports daily Presidential Tracking Poll for Sunday shows that 25% of the nation's voters Strongly Approve of the way that Barack Obama is performing his role as President. Thirty-nine percent (39%) Strongly Disapprove giving Obama a Presidential Approval Index rating of -14 (see trends).

…

Overall, 47% of voters say they at least somewhat approve of the President's performance. Fifty-two percent (52%) disapprove.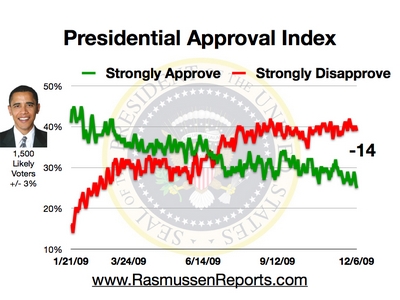 And the Gallup poll is showing a similar precipitous drop (now down to 49-45).
The Obama coalition was first hammered by the departure of independent centrists. This is how he dropped down near 50%. But if either the left of center or liberals start jumping ship, President Obama will slide into lame duck status and will reap huge congressional losses in 2011 as these disaffected core democrat constituents sit home in disgust.
Apparently it will be the far left which bolts first. After the decision to fight to win in Afghanistan Obama has lost the faith of the far left. Which means he will be losing on other issues as well as the liberals' price for support reaches unattainable levels. I expect their demands on health care to ratchet up as payment for not doing what they wanted in Afghanistan, which will bring on further disappointments, and the self destructive cycle begins to spiral in.
2 Responses to "Obama On Verge Of Poll Tipping Point, Dems In Trouble"