Nov 19 2009
We have sadly not hit bottom on the jobs situation. This week's jobs numbers might seem to have some green shoots to the casual (math challenged) liberal news media reporter. But the news is indeed really bad.
This week the first time jobless claims did not change – did not grow and did not shrink. Might seem like good news but the problem is it is still running at over 500,000 new claims each week (half million new people applying for unemployment benefits each week). This is were we were at last year during the initial phases of the recession. We may have stopped the drop, but it has only slowed, not turned around.
If you look at the number of people on unemployment benefits you get the full picture. If the number of unemployed was dropping each week by more than the first time applications coming in the US economy would have turned the corner. This is not the case. The traditional unemployment rolls fell by 39,000, not even 10% of the 505,000 first time applicants.
But it really is worse than that. There is another category called of unemployment called the Emergency Unemployment Compensation (EUC) pool, which has been steadily growing since the liberals in DC passed their faux stimulus bill. This metric is only reported in the weekly reports, and I have tracked it back through 2009. Here is the graph as of this week: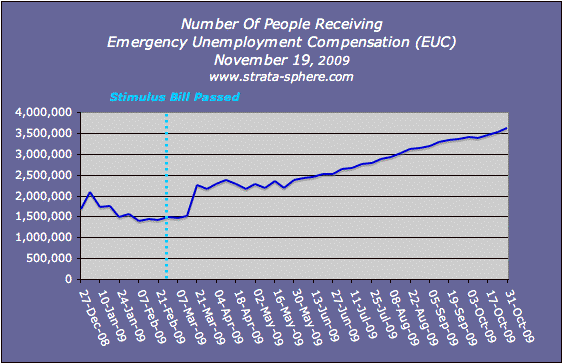 The EUC is the last sanctuary for the chronically unemployed. The normal unemployment benefit rolls saw 39,000 people drop off, but many of those went onto EUC. In fact, so many it is hard to believe the normal rolls could only drop by 39,000 because this week the EUC rolls expanded by a whopping 101,838!
The week after the stimulus bill was passed – in a flurry of BS promises and rushing – the EUC rolls stood at 1,468,667. Since the disastrous stimulus bill passed the EUC rolls have climbed to an astounding 3,62,2091 – over 147%!
This is the true measure of Obama's job creating. Each week we see half million people come in for their first unemployment claim. Each week somewhere around 39,000 leave the normal unemployment rolls – with a huge number moving onto the rolls of the EUC benefits. The liberal stimulus plan has added 2,153,424 people to the EUC – which are jobs LOST. That is the bottom line for Obamanomics.
Update: Now we hear Obama's Jobs Summit will not be about creating jobs?
President Barack Obama says creating jobs isn't the goal of a coming White House forum on jobs and economic growth.

The president told NBC News on Wednesday that the purpose of the Dec. 3 summit is to figure out how to encourage hiring by businesses still reluctant to do so.
The level of incompetence from this administration is just stunning.
10 Responses to "Economy Still Shedding Jobs"